It was like he'd never been away. Did he ever take an injury break? It certainly didn't look like it. He played his first match after the injury break like his normal self; looking at his movements, an injury is not even discernible. He moved and glided like a ballet dancer. He was poetry in motion. After being sidelined since the Australian Open, Roger Federer raced into the third round of the Monte-Carlo Rolex Masters on Tuesday in his first match back on the ATP World Tour, dismissing Guillermo Garcia-Lopez 6-3, 6-4
Federer has showed no signs of rust on Court Rainier III as he swept past Garcia-Lopez in 75 minutes. He started off very well weaving his magic with Wilson wand and painting the lines for Winners on both wings.
By his fifth game, Federer's backhands and forehands stung and snapped at Garcia-Lopez like guard dogs, driving him back off the baseline. Garcia-Lopez whacked a pair of double-faults in the sixth game of the first set, allowing Federer to take a 4-2 lead. Federer played a few sloppy points in the next game, but an unreturnable serve and a terrific, rally-ending, down-the-line backhand at 15-40 saved him. He went on to hold and serve out the set.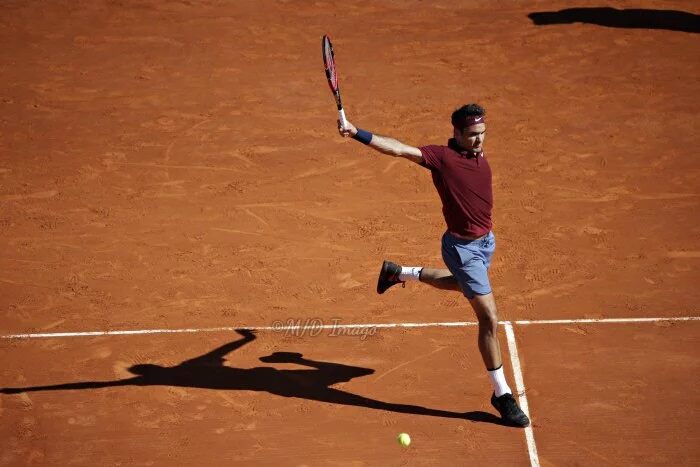 As the match progressed, Federer looked untroubled before a rare blip saw him broken at love, when serving for the match at 5-2. But he concluded his straight-set victory by winning his next service game
.
"I think in a way it was a perfect match," said Federer. "It was close in the beginning, then I was able to go on a roll. Points were cut short by virtue of me serving better and returning better, getting second serves, taking advantage of that fact.
"At the end, again, I had to fight for it. I went through different phases in the match. Also emotionally. I was excited and tense in the beginning just because it's a first round. It's my first match back. So it was nice to go through all these emotions.
Read Federer's press conference transcript after match Here.
Like many Nike athletes, Federer is wearing the black and gold Nike Kobe Bryant tribute sneakers these days. They have the date 4-13-16 embroidered near the heel, commemorating the day Bryant will play his last NBA game. Roger was also a part of a video tribute to Bryant. It is amazing to see Roger give such a beautiful tribute to a fellow athlete.
It was a beautiful match replete with all his signature shots and moves. Hoping to see more of him in action in the third round, where our champ will face Roberto Bautista Agut (ATP 17).
Let us know your thoughts on his first match.