Federer comes back from Brink to win a heart-stopping 5 setter
Being two sets and 0-40 down in the 3rd set, he was staring at a crushing defeat. But Roger Federer did it! He isn't the record 17 time Grand Slam champion for nothing! He turned it around and won the quarter final against Marin Cilic in a thrilling 5 setter, winning 6-7, 4-6, 6-3, 7-6, 6-3. Millions of hearts were on the verge of breaking, but Federer kept his cool despite a 2 sets deficit and played on. He was simply magnificent. Some of his shots were so ridiculous that they had the crowd going wild for him. At the age of 34, Federer's record-tying 10th career win from two sets down makes him the oldest man to reach Wimbledon semis since Ken Rosewall in 1974.
Federer fired 27 aces and 67 winners to win the match. He did not produce even a single double fault in the entire match. Federer will now face a semifinal with another big server 6th seeded Canadian Milos Raonic. This match will be tough as well for Federer, but by looking at this match, Federer definitely has a huge chance to win. Besides he has never lost a semifinal at the Wimbledon.
Here is a look at how the match progressed:
First Set:
Neither Federer, nor Cilic could break each other in the first set. The match was pretty much neck-to-neck. Federer opened the 2nd game with 2 back-to-back aces and held his serve easily. Federer had a couple of chances to break Cilic but could not convert. Federer then forced a tiebreak. Cilic powered ahead in the tiebreak with powerful serves and impeccable returns. Federer was 0-5 down when finally he held his 4 service games. But Cilic kept up the pressure and won the 1st set. 7-6 (7-4).
Second Set:
Federer opened the 2nd set with a fabulous drop volley to make it an easy hold. But Cilic kept up with his pressure and impeccable first serves. Cilic broke Federer in the 3rd game to surge ahead 1-2. After that both players kept up with their serves, and Cilic closed out the set at 6-4.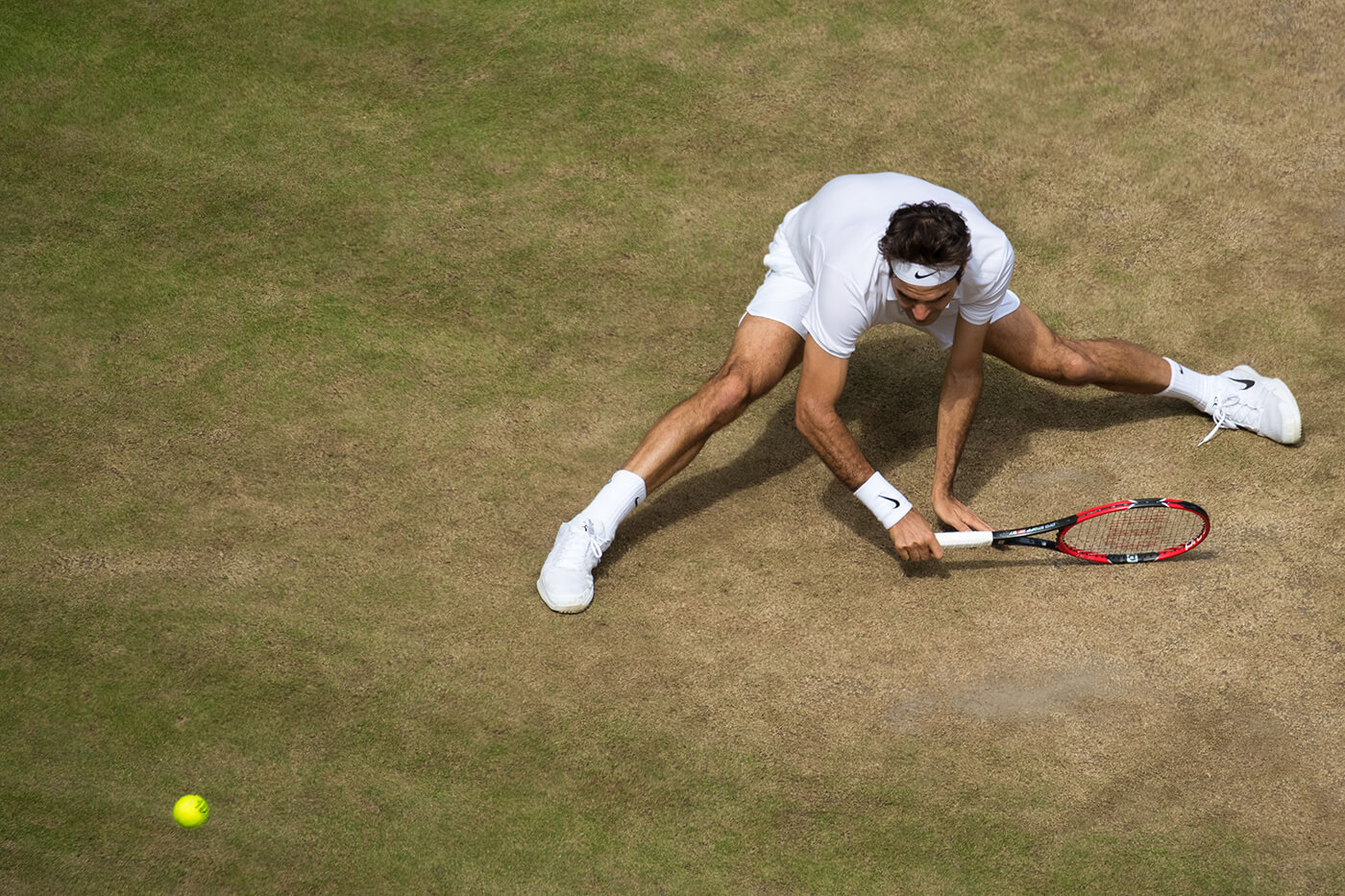 Third Set:
Federer began the third set with a service hold. Cilic held easily as well. Till 3-3, both kept up with their service games. Federer was serving the 7th game, when he was down 0-40. This was the turning point of the match; this is the point when Federer turned it all around. Cilic hit a few backhand errors, 2 of them which were unforced. Federer did great under pressure to hit serve impeccably and hit some amazing shots to make it to deuce. Federer kept up the pressure and ultimately won the game to take a 4-3 lead. Cilic then while serving, again fired some miss-hits to make the game to deuce. When Federer had the AD, Cilic served a double fault, resulting in the break of serve and Federer again taking the lead to 5-3. Federer then served brilliantly to win the game and the set 6-3. This set win gave Federer a much needed boost of confidence.
Fourth Set:
The 4th set was pretty much just like the 1st set. Cilic began the set by serving first and kept up his serving all through. Federer did the same, feeling a little more confident, he kept up with his serve as well; making a neck-to-neck set again. Federer again forced a tiebreak. Again both of them kept up the pressure and kept on being neck-to-neck in the tiebreak. At 6-6 all, Cilic won the point to make it 7, Federer brought it to level to 7 all. Federer then won the next game with a backhand volley making it 8-7. Cilic leveled it to 8 all. Cilic then served a double fault to make it 9-8 in Federer's favor. Federer couldn't capitalize on it and made it 9 all. Finally Cilic made 2 back-to-back errors and Federer won the 4th set 7-6 (11-9). Federer saved 3 match points in this set to clinch it. He was definitely getting his groove back to force a decider set.
Fifth Set:
The 5th set was relatively easy for Federer. Both kept up with their service games till the 8th game. Cilic was looking a bit less confident by then whereas Federer was riding high with winning the 3rd and 4th sets. At 4-3, Federer broke Cilic to win the game 5-3. Federer then served out impeccably to win the game, set and match with 2 successive aces.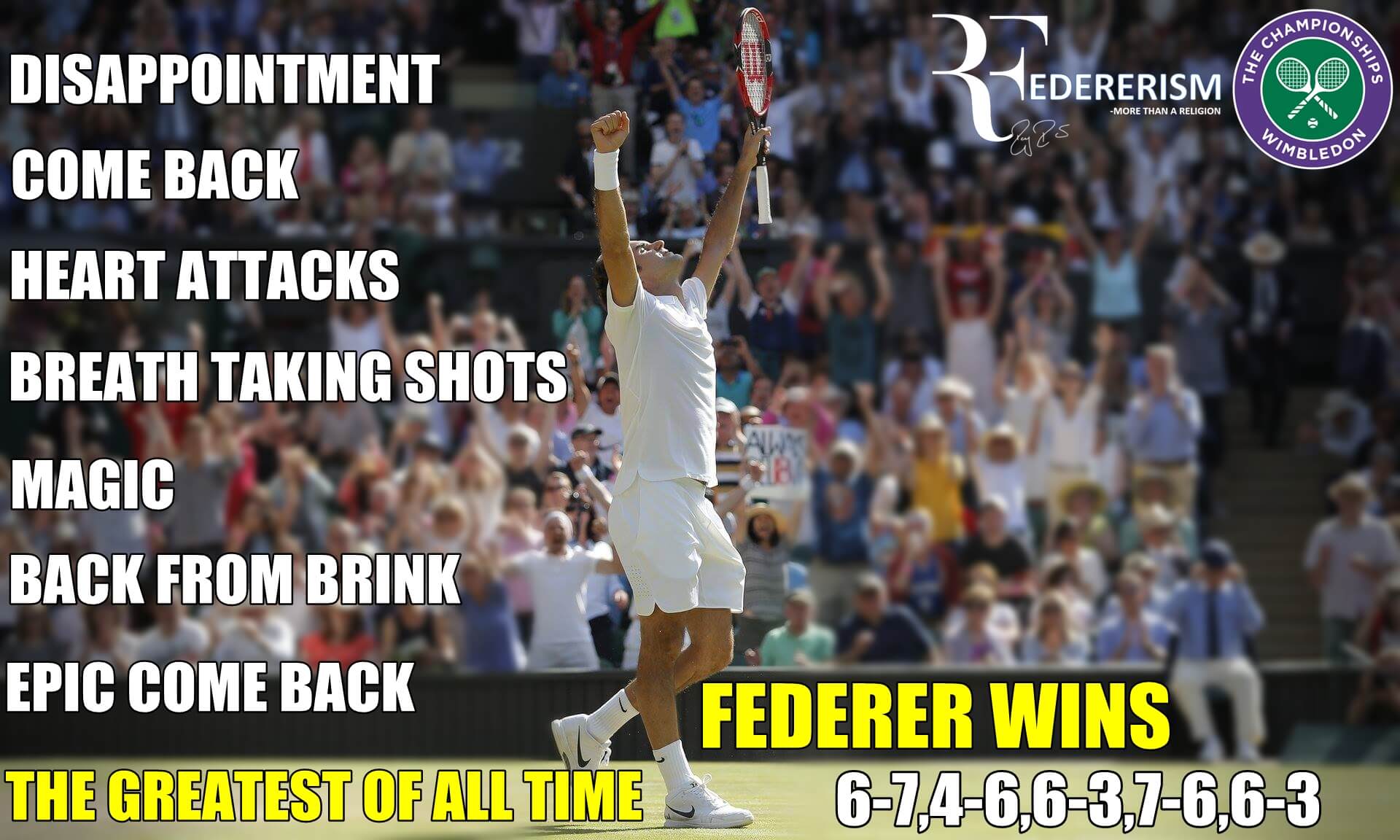 Key stats of the match:
Federer 27 aces to Cilic's 23, had 0 double faults to Cilic's 7, his 1st serve percentage in was 63 % to Cilic's 57, his winners were 67 to Cilic's 59 and unforced errors 24 to Cilic's 36.
For the Federer fans, this was a full heart attack mode match. Federer hung by a thread and so did his fans. The first 2 sets were incredibly scary. The third set became somewhat better mid-way. The fourth set was explosive and breathless, Federer faced 3 match points and saved them all to win it 11-9 in the tie break. That sure gave his fans a lot of spasms in the heart. The final set was quicker and easier on everyone.
It was an absolute pulsating match, the crowd went wild and cheered him on so loudly all through. If you were to close your eyes, you would know for sure that every time you heard the crowd scream out loud, it was Federer who won the point. Though closing eyes in this match was impossible, both the players were absolutely immaculate and both of them made it worth the while.
Stefan Edberg, David Beckham and his 2 sons, Anna Wintour, Ellie Goulding, Bradley Cooper and Irina Shayk were among the big celebrities who had come on to cheer for Federer. Bradley Cooper and Anna Wintour have been big time Federer fans since a long time and they are regulars at a lot of his matches to support and cheer him on.
The Twitteratti were also constantly tweeting and gushing about Federer and his absolutely classy comeback win.
"I don't know how you come off the court from a match like that and think that clearly!" – ESPN's Chris Fowler on Federer and his BBC interview
"I cannot believe Roger Federer won that match. Unbelievable tennis. How did he get out of that?" gushed American great and Raonic's coach John McEnroe.
Federer later said in his interview, "When you're down two sets to love, three-all, love-40, it's a moment when it's not in your control anymore,"
"To win a match like this, to test the body, to be out there again fighting, being in a physical battle and winning it is an unbelievable feeling," Federer said. "My legs were there, my back was there, serving was key. Mentally this is going to give me a hell of a boost. I am ecstatic that I was able to come through… somehow." He added, "There were many more match points in my mind than just three today. But I fought, I tried, I believed. At the end I got it done."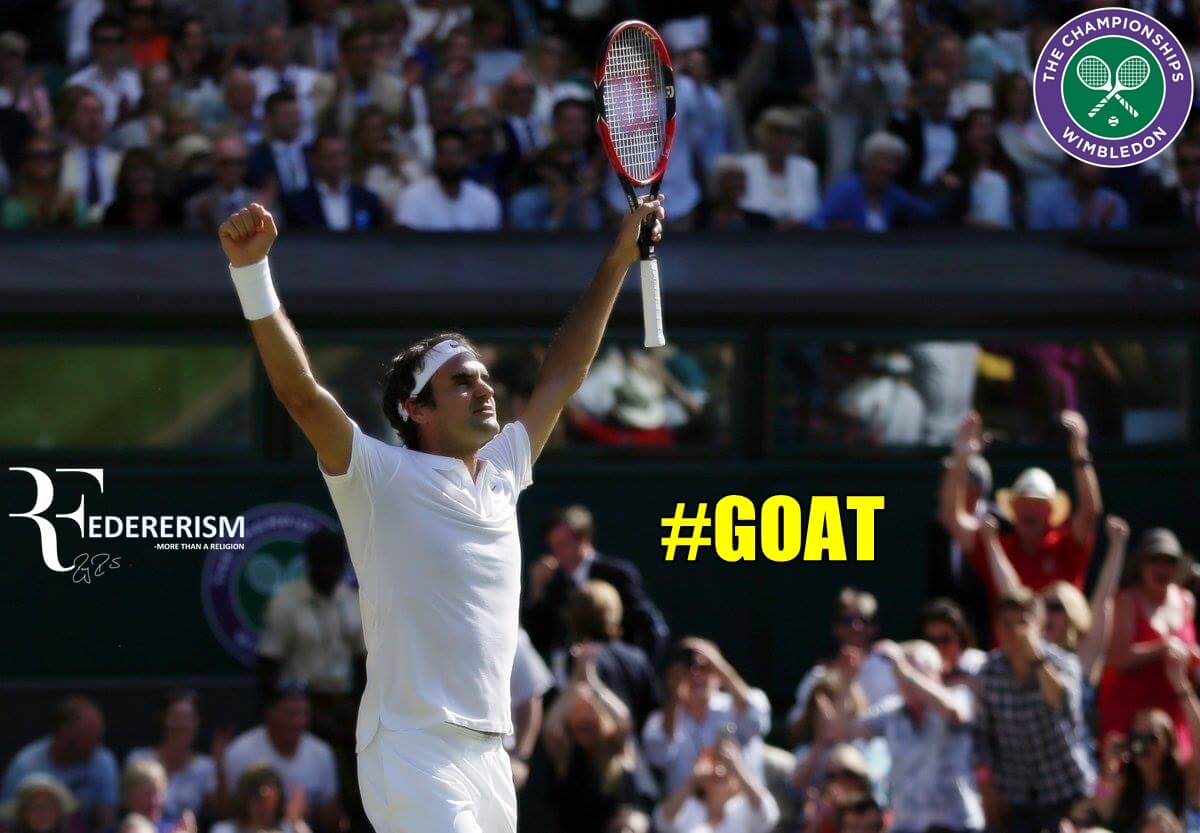 "Marin is such a wonderful player and I knew I was in so much trouble in the third set and in the fourth," said Federer. I wasn't seeing his serves, he had one chance and took it and then I was down 2-0. He was playing very well and reading my serve and I couldn't read his.
"I don't remember coming back from two sets to love here. This is huge for me, my season, my career," Federer said after securing his passage to an 11th Wimbledon semi-final.