Roger Federer cruises into the 4th Round of Wimbledon
After coming back from a crowd thrilled match against Marcus Willis in 2nd round of Wimbledon, Roger Federer is all set to face another hometown player Daniel Evans who is ranked 91.
Victory for Roger Federer would take his tally to 150 grass court match wins. Roger Federer playing under the roof defeated Daniel Evans by a score line of 6-4,6-2,6-2 in straight sets to register his 305th singles match at a Grand slam tournament and is 1 short of the all-time record of 306 set by Martina Navratilova.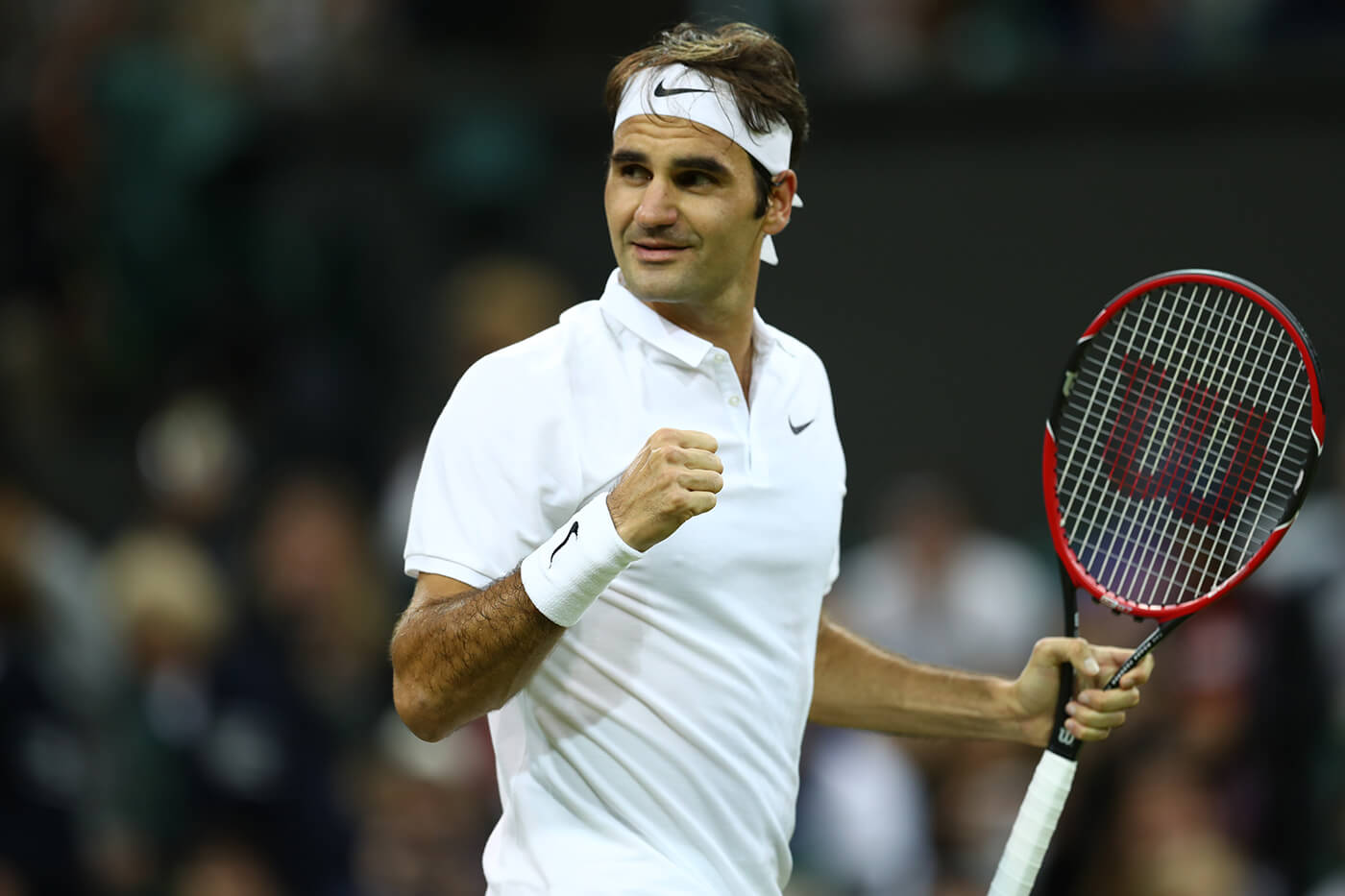 1st set:
Roger Federer was off to a good start in the early stages of match itself with a break off Evan's even though he saved 3 break points, Federer got lucky on 4th time to take a lead of 1-0. After holding onto his serve it was Roger's turn again to break the Brit to have a consolidated healthy lead of 3-0.  Roger makes a comfortable hold on his serve and take a 4-0 lead. Evans serving 0-4 down was trying to get his first game on scoreboard and he does it with a break off Roger serve also to make it 4-2 in first set, and it was the first time Roger's serve got broken in this year Wimbledon. Evans saved two break points to hold onto his serve and make it 3-4. With the next two games being held on serve, it was Roger's turn to serve for the first set at 5-3. Fedex served it out to 15 to take the first set 6-4 in 36 minutes.
2nd set:
Second set also showed master class display from the Swiss Maestro as he broke Evan's serve to take a comfortable 4-0 lead. Finally the Brit made a mark on the scoreboard by holding to his serve to make it 1-4. Federer serving at 4-1, holds his serve in a superb fashion with a love hold to take 5-1 lead. The Swiss Maestro is now just one game away from making a two sets to love lead against Evans. Evans hold his serve in the next game from a 15-30 deficit to make it 2-5. Roger comfortably holds onto his serve and takes a two sets to love lead , and the Swiss Maestro is just one set away from moving onto 4th round.
3rd set:
Third set began with a hold on serve from both players to make it 1 game all. Evans lost his serve after he tried to hold on for a bit, but Roger made the break to take a 2-1 lead. Swiss Maestro consolidates the break with a love hold to take a 3-1 lead. Roger looked totally in control when he had three break points on Evan's serve and hits a magnificent winner to make it 4-1. The Swiss Maestro held on to his serve again pretty comfortably to make it 5-1 and it just one game away from moving into 4th round of Wimbledon. With Evans holding onto his serve in the next game, it was Roger's turn to serve out for the match at 5-2. The seven time Wimbledon champion holds on to his serve to register a 6-4,6-2,6-2 victory against Evans and moved onto 4th round of Wimbledon in just 1 hour 26 minutes.
"I got to focus on my own thing. I know it sounds boring, but it's not my mistake," Federer said, refusing to pay homage to London's inclement weather. "It's just what happened. I might take a day off tomorrow just because I can.
"I have to take them when I can. I'm an old guy. I'm looking forward to my day off tomorrow. On Sunday I'll practise with more intensity, I guess, to keep that intensity, play points, go to the gym again. Tomorrow it's relax, and Monday hopefully I'll have great energy when I come back."
Djokovic's shock defeat to American Sam Querrey on Saturday ended the dominant Serb's quest for a calendar grand slam and blew the men's draw wide open — leaving 7 Times Champion Roger Federer and 2013 Champion Murray as the new title favourites.
Federer will next face S. Johnson in 4th Round of Wimbledon.