Federer's Masterclass to Marcus in straight sets in a high voltage drama match
This was a match made of dreams. A match that had everyone on their feet; and their hearts on their sleeves. It was a true underdog story; stuff of legends. It had all the elements of a dramatic sports movie; where the underdog is as much a hero as the winner. It was truly a beautiful and a tug-of-the-heart-strings match; a truly touching experience of a man who came from very humble history. He looked happy to be there and he truly seemed to enjoy the evening, in spite of the outcome.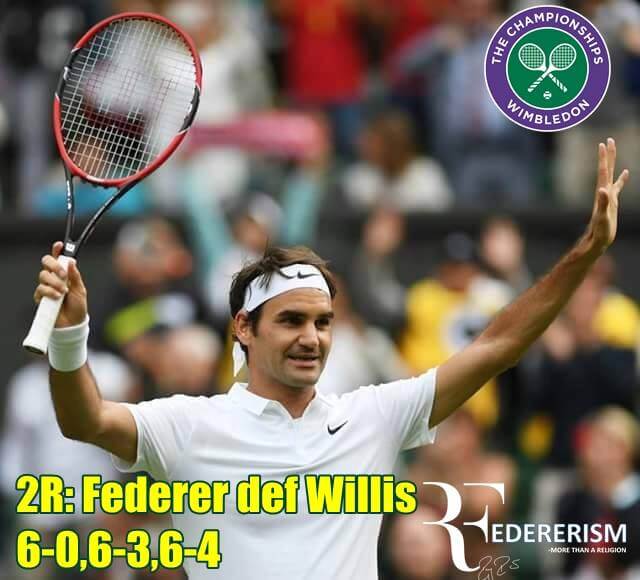 His opening round win here over world No.54 Ricardas Berankis was the first Tour-level match he had ever played, and made him the lowest-ranked qualifier to reach the second round at any Grand Slam in the last 27 years – longer than this 25-year-old's entire lifetime.
Set 1:
Federer began with a comfortable hold of serve to move 1-0 up in the first set. The Swiss maestro then broke Willis, racing to a 2-0 lead. Federer then saved a break point, registered another game-win over World no. 772 Willis. It was turning out to be a comfortable contest for the former World no. 1. A double break then helped Federer open up a four-game lead over Willis making it 4-0 to Federer. Finally Federer broke him again to make it 5-0 and then comfortably served to make it a bagel.
Set 2:
Willis stepped up his game in the 2nd set, but the Swiss continued to lead 2-1 in the second set.Willis celebrated in style after winning his first ever game on centre court. Federer converted the second break point to move 4-2 up in the second set against Willis. A clinical hold put Federer a game away from sealing the second set. Willis served at 2-5 and was all smiles as he held serve to win his third game of the match. Federer, who was 5-3 up, served for the set and with another hold, pocketed the second set 6-3
Set 3 :
Willis again stepped up even more in the third set and had a neck-to-neck score for a while. Willis, 40-0 up at one stage, was offered resistance by Federer, but the World no. 772 held his own to start the third set with a hold of serve. And, he was being cheered aggressively for the serving game.
Federer with the hold and Willis responded with another one. Willis kept getting better and seemed to relish the atmosphere, gaining more and more confidence.
Willis was matching Federer with the serves as he, for the first time in the match, lead 3-2. Willis was getting a lot of energy into the game. He was getting enough support from the crowd and finally he held and was leading 4-3 in third set and in 8th game federer broke him and finally won the third set by 6-4.
Both the players hit 9 aces each and the match took 85 minutes to finish.
After winning the matchpoint, Federer did not applaud the crowd, he just packed up the kit and let Willis live the moment of his lifetime. In the beginning too, when the players usually walk out on the court, he let Willis arrive in the Centre Court first: "It was his moment, I wanted him to have a great time."
"I thought I got my fair share of support. He deserved more. He deserved more in the bigger moments."
Marcus Willis said, "He (Federer) is obviously the best player of all time for a reason". He added that, "I could control my game but I couldn't control Federer" and he seemed to be in awe of federer as he was wearing the Tshirt bearing the RF logo on the sleeve.
It was indeed a match of dreams and we certainly hope Willis excels even more; he definitely has the potential to race ahead.
You can't afford to miss this one.Here is the link to watch highlights of the match