Roger Federer open his 2016 Wimbledon campaign with a Reassuring Win
Roger Federer beat Guido Pella in straight sets with a reassuring win; also accomplishing the record of 4000 winners at Wimbledon. This was his 80th win at Wimbledon as well. Pella gave him a tough fight in the first 2 sets, both of which Roger won in tie breaks. The third set was a little easier where Roger was able to break him and win the match on his serve. Federer looked good considering he was injured a few weeks back and had to pull out of Roland Garros to focus completely on his Wimbledon preparation. He lost in the semis of both the warm-up events for Wimbledon, Stuttgart and Halle.
1st Set:
Federer began the first set with a perfect serve to which Pella had no way of getting around. But Pella too held on and both could not break each other. Each held there on serve and brought it to a tiebreak. Federer played some shots absolutely brilliantly, but faltered on a few as well.
In the tiebreak, both still held on. Pella played brilliant back-to-back drop shots to make it 5-6. But Federer kept his cool and played patiently to win the set 7-6 (7-5).
2nd set:
The second set was the same as the first one. Both players kept holding their serve and did not give a break to either. Pella kept taking it to Federer and again a tie break was forced. Federer served and returned perfectly to quickly get to 6-1. Pella again held on got the two next points, making it 6-3. Federer then won the 2nd set 7-6 (7-3), taking a 2-0 sets lead.
3rd set:
Federer became much more confident as he was 2 sets up, he played a more aggressive game. He broke Pella in the 8th game with a forehand winner to make it 5-3. He then fired up 2 aces to in the 9th game to clinch the set and the match 7-6, 7-6, 6-3 in 2 hours and 5 minutes.
Pella did frustrate him at certain points but Federer kept his cool and won the match. He will face the Briton whizkid ATP ranked 772 Marcus Willis in the 2nd round; who upset World no. 52. Ricardas Berankis to reach the 2nd round in his maiden attempt at the Wimbledon main draw. He came up in the main draw, having gone through intense pre-qualifying and qualifying rounds.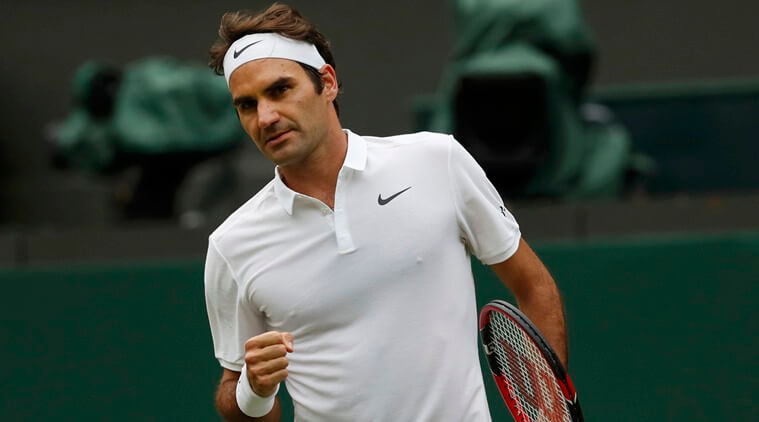 Willis is a true underdog story in the recent Wimbledon history. Willis while pocketed £258 prize money this season; Federer earned $98,148,225 career earnings. Federer has 88 titles in his locker compared to Willis' solitary Great Britain F14 Futures triumph in 2013. Willis earns £30 an hour teaching tennis to kids and adults.
"I'm so happy," Federer said once Pella had been dispatched. "I was walking out thinking to myself 'it's so nice to be out here'. I've worked so hard since February to be here fully fit. I didn't want to have miss Wimbledon. We'll see how fit I am – nobody knows, not even myself. But I'm just happy to be here." He added, "Everybody has worked extremely hard on my team to get back in shape; the only way I can thank them is by playing good tennis."
On the prospect of facing Willis, Federer said, "I was very intrigued about his story. It is what our sport needs, where guys come from nowhere. We have had a hard time producing those players and I am really looking forward to playing him, couldn't be more excited.
"It is a huge moment for him but it is big for me too. I am still on way back as well. His story unbelievable and it just shows depth of men's tennis. It is a huge moment for him. It is big for me. His story is unbelievable. Rankings only tell so much of the story, I hear he was playing club tennis so he probably should be higher."
"This match is different. It's picked up on momentum. People will hear about it. People will know about it. Naturally they're going to support him. Rightfully so, because I think it's a very cool story myself. It's going to make the match difficult," Federer said. "I saw him play today. He plays well. It's not like he couldn't play. Otherwise he wouldn't be where he is. It's going to be interesting. Plus he is serve and volleying, which I love to see. He came up with some great, great shots. To beat a guy of Berankis' caliber in straight sets shows you how tough he is."
Federer, who was a serve and volleyer too, had a few thoughts about his game, who likely will have to cancel more lessons to play against Federer. "A little bit more old school, using the slice, chipping the returns. Dangerous off the back… Saw some nice touch at the net," Federer said. "First couple of days, it's tricky to play anybody here at Wimbledon… I think his game is perfectly suited for these kind of conditions right now."
Federer, whose story has been told thousands of times over the years, would even like to ask a few questions to Willis. "I just like the idea of him… It would be nice for him to tell me exactly how it went, the decision to enter pre-quallies. What went through his mind really, why he wanted to quit tennis, take up coaching… It's just an interesting concept," Federer said. "There's a lot of cool things that are part of the story."
"If he gets more support, that's awesome. If I get more support, that's nice," Federer said. "I hope he can play as good as he can and that I also can play a good match and everybody enjoys themselves."
In case you have missed it you can watch the highlights here !!