Why this is the best chance for Roger Federer to win his 18th Grand Slam?
Djokovic's shock defeat to American Sam Querrey on Saturday ended Novak Djokovic's calendar grand slam chances and blew the men's draw wide open — leaving 7 times champion Roger Federer and 2013 Champion Andy Murray as the new Title favorites.
Roger Federer has always had great results at Wimbledon. After losing in Semi Finals to Novak Djokovic at Australian open 2016 and getting injured, Federer was away from Tennis for a quite long period. Even though he made a comeback in Monte carlo, he again hurt his back in Madrid; thus prompting him to skip Roland Garros for having a better chance at Wimbledon and for the rest of the season.
Federer's decision of skipping Roland Garros was a good move as he made come back into the Green lawns with positive results of Semi Finals at both Stuttgart & Halle.
After defeating Evans, Federer has reached 4th Round of Wimbledon. Although Federer looked little rusty and uncomfortable in 1st round against Pella, He came back quite well against the two Brits he has faced in 2nd round and 3rd round. Thus giving him a chance to go into the 2nd week and have a great run one more time.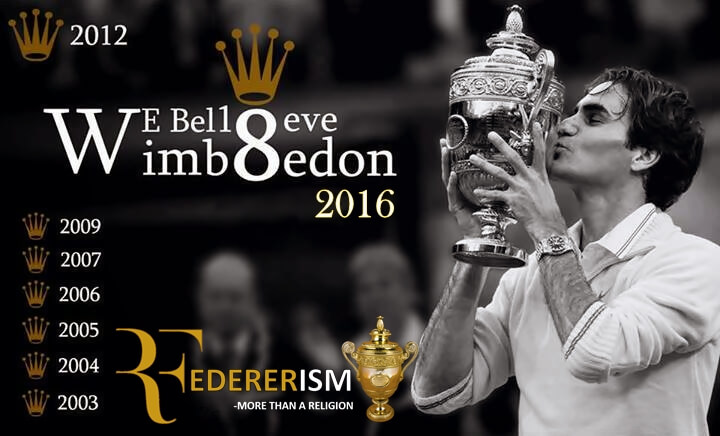 FAVOURABLE DRAW:
Let's have a look at his possible Opponents:
4th Round: Steve Johnson
Quarter Finals: M.Cilic / K.Nishikori
Semi Finals: M.Roanic
Finals: Andy Murray
Federer will be happy facing Steve Johnson in 4th Round and Cilic or Nishikori in Quarter Finals. Considering his form on Grass and the extra motivation he gets for himself at SW19, Federer shouldn't have any problem dealing with Nishikori or Cilic. Although he needs to put away both of them by keeping his fine form. In Semi Finals, he may have to face Canadian No.1 Milos Raonic who is under the coaching of John Mcenroe. Federer may have to face Serve battle with Raonic whom he has lost this year in Brisbane open Finals. Federer's ability to play big serve players has always been amazing. He has to maintain his Break point conversion and Serve percentage at very high rate for the rest of the week.
"I'm clearly very happy because, well, the goal was to get to the second week somehow. Now I've won nine straight sets, which is great," said the Swiss.
BAD WEATHER:
Yes, Bad Weather. The weather gods have been tough on the world's tennis stars this week but Federer has had an easier ride than most. While other opponents are still playing Third Round Matches, Federer is already in 4th Round waiting for his opponents. It's an ideal situation for Federer — who has been battling a back problem that forced him out of the French Open. Federer gets two days of rest on Saturday and Sunday. The Weather Forecast for the next week includes heavy showers on the Match days and that could well place Roger Federer under Center Court Roof and Federer's Tennis level reaches to another level when he plays under roof.
"I definitely got a bit lucky to play British guys, which put us on Centre Court," added the Swiss after playing his second successive match under a closed roof.
"So I'm the only guy in the fourth round, which is maybe a little bit of an advantage."
MENTAL EDGE OVER MURRAY:
He's made three major finals in that period (Wimbledon 2014, 2015 and US Open 2015) — and lost to Djokovic in all of them. Since Novak is no more in his path, His Final opponent could be the 2nd best player of the year Andy Murray, who is fine form this year having reached Finals at French open last month. However, Federer would probably fancy his chances against the 2013 champion, whom he has clearly had the wood on in recent meetings. The Swiss leads the all-time head-to-head 14-11 but has won the past five meetings, including a straight sets semi-final win at Wimbledon last year.
Let's Hope Federer will gets his 8th Wimbledon Title, 18th Grand Slam on his 18th appearance at Wimbledon. We BEL18VE in you Maestro.