Roger Federer Bagel Statistics
Roger Federer is one of the best front runners in the history of the game and he has been proving it since his debut into ATP world tour. Federer hitting his top level, is absolutely unstoppable. Fed at his best does not allow the other player to control anything of their own, while he sweeps one winner after the other, thus serving a Bagel to his opponents.
When Federer gets going it's really difficult even for the Top players to handle. He has served bagels even to his greatest rivals like Rafael Nadal, Novak Djokovic, Andy Murray and Leyton Hewitt. So don't you wanna know how many times he handed bagel to his opponents? We decided to pull up his Bagel stats in his career. Here is the list below.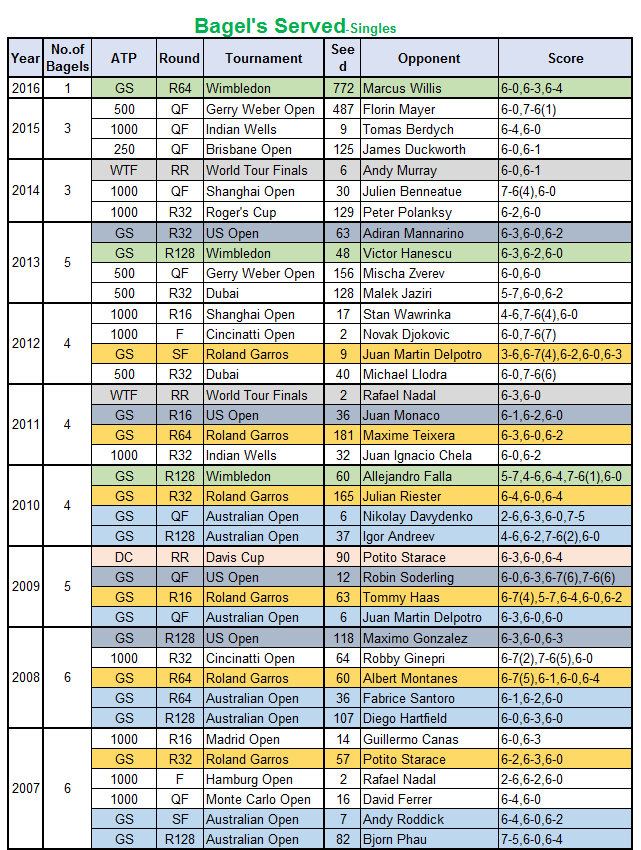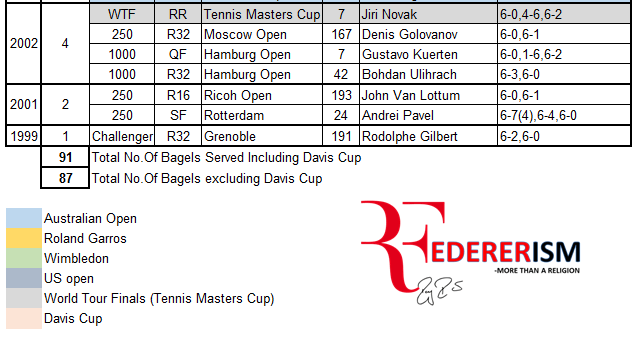 Some Interesting Facts:
Federer is 87-4 in bagel counts.
Federer has served total 91 bagels including Davis cup Matches and 87 bagels excluding Davis Cup matches.
Federer has received total 4 bagels in his entire Tennis career in ATP.
Federer has served 41 bagels in all four Grand Slams.
Federer has served 12 bagels in Finals, 8 in Semi Finals and 12 in Quarter Finals.
Federer has handed Bagels to his opponents in Grand Slams Finals as well. (2004 Us open vs L.Hewitt, 2006 Australian Open vs M.Baghdatis and 2006 Wimbledon vs R.Nadal)
Federer has served 23 Bagels against Top 10 Opponents.
Federer has served 9 Bagels against Top 8 in World Tour Finals (Tennis Masters Cup).
Federer has also served 4 Bagels in Doubles.
Federer has also received 5 Bagels in Doubles, one of them coming in 2009 against Top seed and doubles champion Bryan Brothers.
Federer has won all the matches when he served a Bagel.
Federer has served 4 Doubles bagels in his entire career. (2 of them in 5 Set Matches)


Roger Federer has snagged the First Golden Bagel Award in 2004 with 12 bagels, an achievement honouring the professional tennis player who has handed out more "bagels" (sets won 6-0), than any other player on the circuit. Federer has won it again by holding the all-time record for most bagels in a single season with 19 in 2006.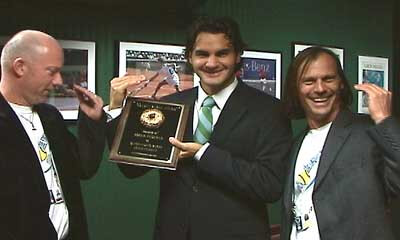 Source: SideSpinProductions
"I think I need some cream cheese with that," Roger Federer said on inspecting the full-sized golden-dipped bagel. Presenters asked the World's Number One player if he knew how many bagels he had served during the course of the year. "Six?" Federer guessed. No, he was told, you gave out 12 bagels. "What!" he exclaimed.
Notable wins:


Federer posted the first-ever 6-0, 6-0 score line in the history of the men's year-end championships in Shanghai, an event which goes back to the first Masters held in New York in 1970. It was also Feds first double bagel of his career. After the 50-minute mauling Gaudio said: "I think I was playing against a guy who's the best in history and on a surface that he's so much better than me. There's not much to say, sometimes this happens, and it happened to me today. It happens in life, but there are things a little bit worse than this." Yeah, like scraping about on the Challenger tour after you've won a Grand Slam title
Federer's second Double bagel came in one of the worlds greatest stages; Arthur Ashe Stadium, Us Open Final 2004 against leyton Hewitt. He has completely dismantled Hewitt in straight sets to win his 1st Us Open title. "Now that I did it, it's still tough to believe, At the end of the year especially, I'll be looking back thinking, "How in the world did I do all this?" Federer said.
Federer has demolished Andy Murray in the World Tour Finals handing him just only one game with 6-0 6-1 victory. Federer said it was an almost perfect performance, but he was not too upset at losing the penultimate game. "Yeah, not so cool because I wouldn't want to be in that position," the 17-times grand slam champion told reporters.
"I was happy to get it done. At the end I was happy I didn't win the second to last game to be quite honest. "It's uncomfortable. I don't know. I don't like it."
Federer, understandably, could not disguise his pleasure in reversing the humiliation Nadal laid on him in Paris three years ago. "We've played so many times [26], sometimes it just derails for you," he said. "Like it derailed Rafa today, it did for me at the French Open. [I was] very excited, after a tough loss [to Nadal] in Miami this year and a close one in Madrid, that I was able to turn it around again." You bet he was.
Do you think Federer can serve 100 Bagels?
Let us know your thoughts in the comments section below.