Federer beats Mayer to enter Stuttgart Semis, Passes Ivan Lendl with 1072 wins.
Roger Federer reached his first semifinal since the Australian Open after defeating Florian Mayer in Straight sets 7-6(2), 7-6(1) in Mercedes Cup, Stuttgart.
After a tough match against teenager Taylor Fritz, Federer comes up with good confidence in his 2nd match of this year's grass season. Both men served well in the 1st set forcing each other into the Tie Breaker before Federer saves a Set point at 5-6, 30/40 in the first set. Federer as expected made his move in Tie breaker to win the 1st set 7-6(2).
He was a bit rusty in the 1st set but his serve was pretty solid firing 15 aces in the whole match. As match progressed Federer finds his groove but the German was playing equally good only to miss three break point chances he got in the 12th game of 2nd set. Federer saved all the 3 points and forced the match again into Tie breaker. Striking with confidence in the tie break, Federer wrapped up his seventh win with a blistering Forehand in as many meetings with Mayer.
With this win Federer passed Ivan Lendl for 1,072 match wins. Only Jimmy Connors (1,256) has won more career matches.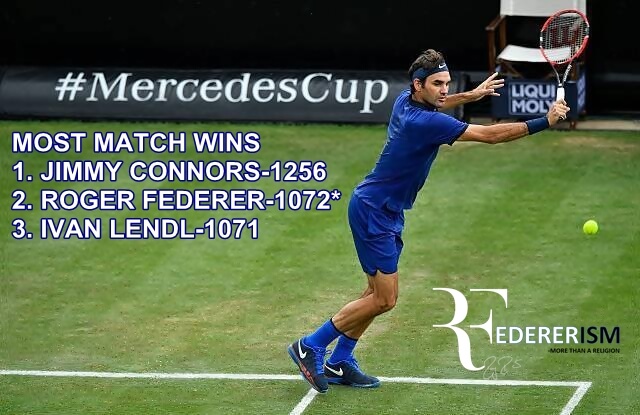 "Every point is important on the grass," Federer told Barbara Schett-Eagle afterward. "Of course I was very happy to have made it through in two sets to save energy. The match is tough.
"Florian is a great player on grass. I've had some tough matches against him in the past. I knew it was gonna be difficult. Like it happens so often, a few shots, line shots, return of serves made the difference. That was the key to the second set."
"If only (my serve) was always like that. But it's not, but it's okay," Federer said. "It's crucial to serve well in breakers. It just relaxes you and you can take more chances on the return. That's exactly how it went. It was just two perfect breakers today."
"That's exactly why I still play to play in front of a nice crowd and win a few matches in a row and hopefully who knows maybe lift a trophy from time to time," Federer said. "I really enjoyed myself and that's exactly what I thought after the match is over. How nice it is to be back on the match court and win two matches in a row. It's beautiful right now so I'm really enjoying it."
Federer will next face Rising star and No.3 seeded Dominic Thiem tomorrow in the Semi Finals of Mercedes Cup, Stuttgart.
Watch Federer vs Mayer Highlights here: