Wimbledon Day 9 Highlights
Roger Federer BEAT Marin Cilic 6-7(4-7) 4-6 6-3 7-6(11-9) 6-3 :
Being two sets and 0-40 down in the 3 rd set, he was staring at a crushing defeat. But Roger Federer turned it around and won the quarterfinal against Marin Cilic in a thrilling 5 setter, winning 6-7, 4-6, 6-3, 7-6, 6-3. Federer kept his cool despite a 2 sets deficit and played on. Federer fired 27 aces and 67 winners to win the match. He did not produce even a single double fault in the entire match. Federer will now face a semifinal with another big server 6th seeded Canadian Milos Raonic. This match will be tough as well for Federer, but by looking at this match, Federer definitely has a huge chance to win. Besides he has never lost a semifinal at the Wimbledon. It was an absolutely heart-attack mode pulsating match.
The first set was played on equal terms as neither player could break each other and forced a tiebreak. Cilic had the upper hand when he easily clinched the tiebreak.
The seond set was smoother for Cilic as he won it 6-4.
The third set was a different story. Mid-match became a turning point for Federer when he was 0-40 down and he brought it to level with a surge of confidence and later broke Cilic to win it 6-3.
The fourth set was a tough nut to crack for both the players as it went the distance, especially the tie break. Federer finally won it 11-9 to level the match and forced a decider set.
The fifth set was cruise control for Federer as he broke Cilic in the 8th game and held on his service game. He then fired two consecutive aces to clinch the 5th set and the match. He will meet Raonic in the semifinals.
Federer later said in his interview, "When you're down two sets to love, three-all, love-40, it's a moment when it's not in your control anymore," "To win a match like this, to test the body, to be out there again fighting, being in a physical battle and winning it is an unbelievable feeling," Federer said. "My legs were there, my back was there, serving was key. Mentally this is going to give me a hell of a boost. I am ecstatic that I was able to come through… somehow." He added, "There were many more match points in my mind than just three today. But I fought, I tried, I believed. At the end I got it done."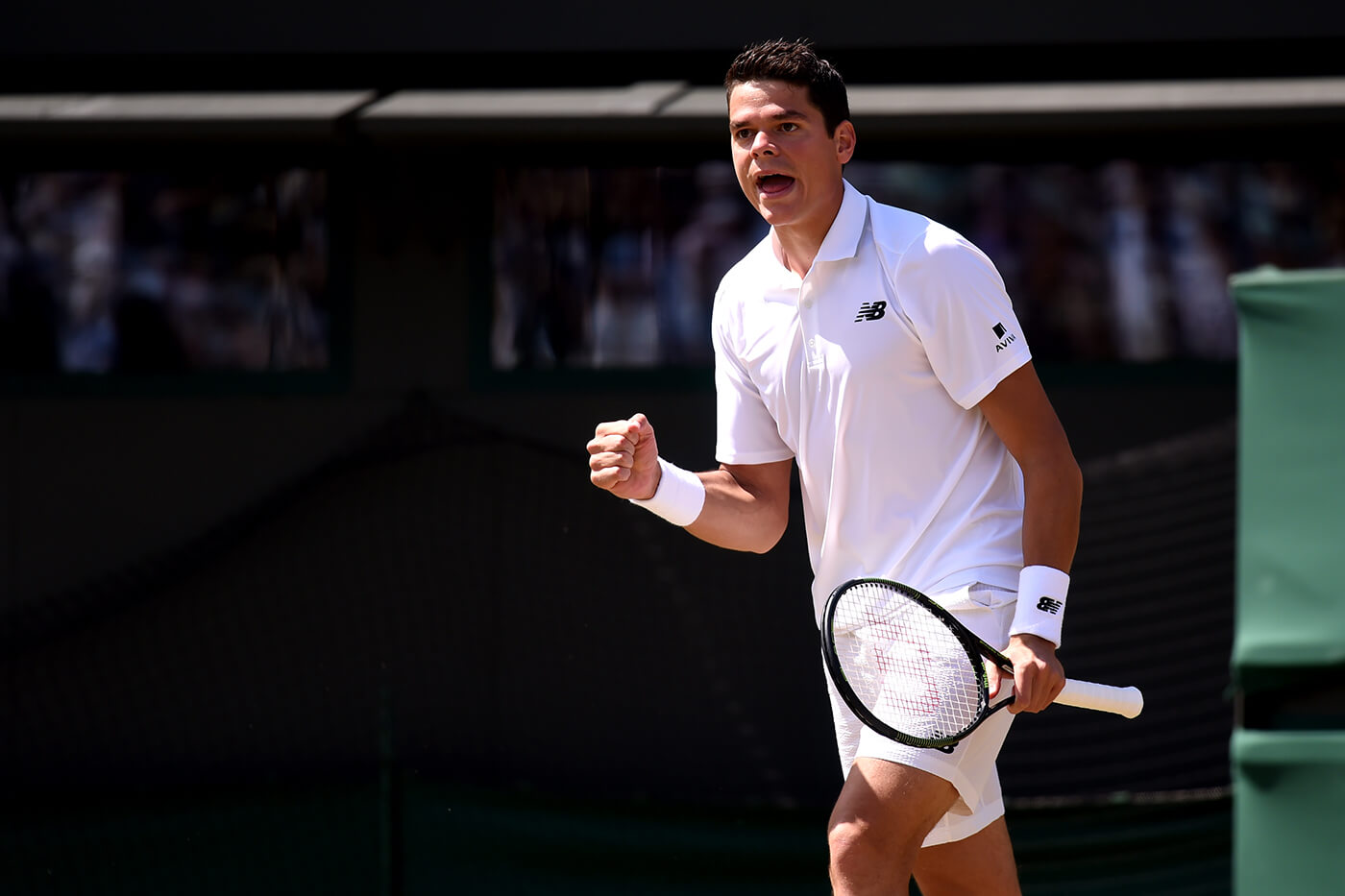 Milos Raonic BEAT Sam Querrey 6-4 7-5 5-7 6-4: Raonic won the first set in a jiffy with excellent serving. Previously he had won over Goffin in 5 sets, but that did not show in his play. He was playing like his usual self. John McEnroe's influence was apparent, who has joined Raonic's team as a coach recently, as Raonic kept on charging into the net a lot.
In the second set, Raonic had to put in more efforts as he the set went level to level, but he broke Querrey to win it 7-5.
He lost just seven points on his serve during the first two sets and faced no break points.
Raonic had a temporary setback in the third set as after the match being neck-to-neck, he lost his service game and Querrey consolidated the lead by winning his service game and clinching the set 7-5.
Raonic though regrouped in the fourth set and was in cruise control to clinch it 6-4 and winning the match. He will play his second Wimbledon Semi-Final.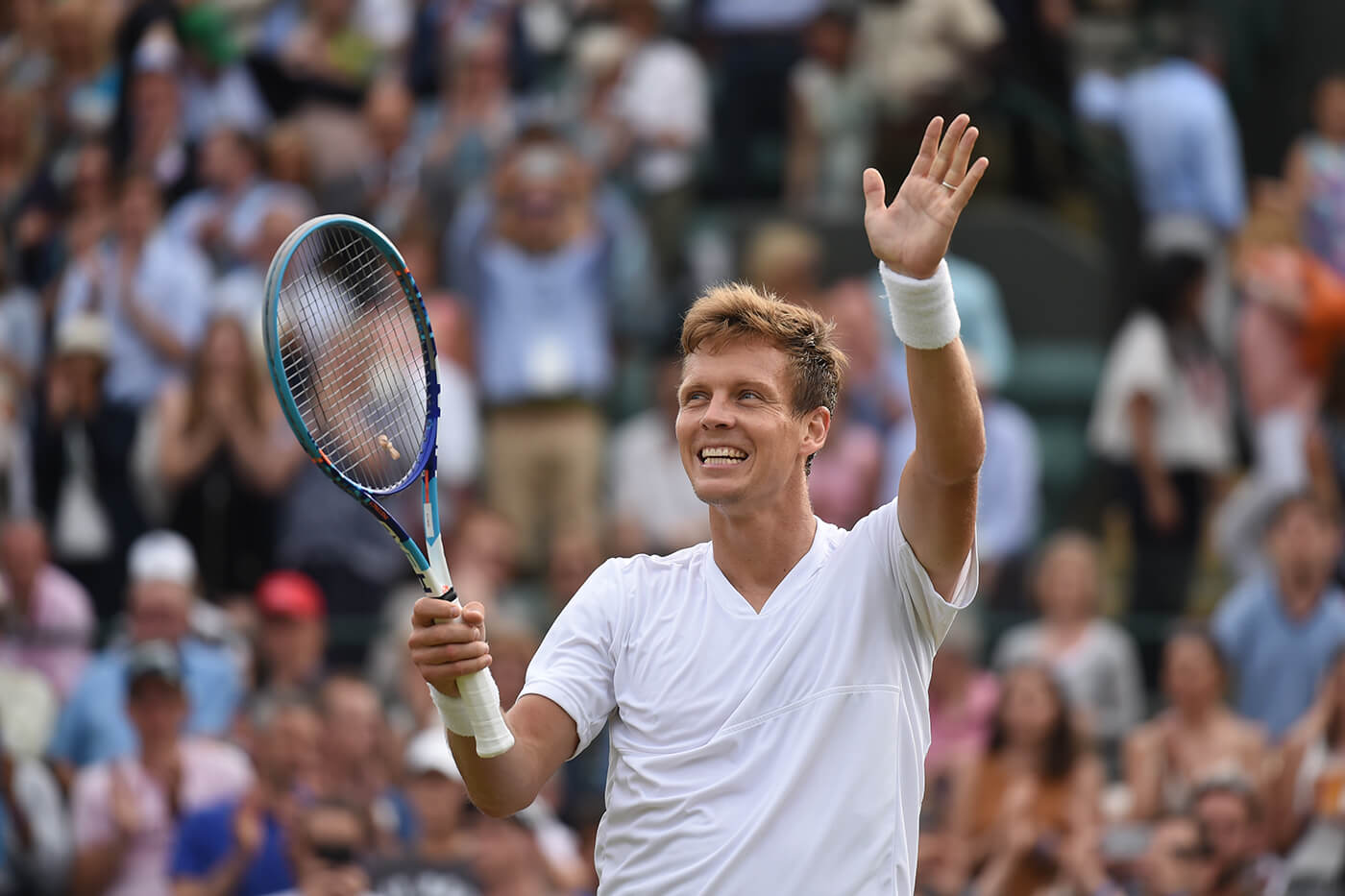 Tomas Berdych BEAT Lucas Pouille 7-6(7-4) 6-3 6-2 : This was a fairly easy match for Berdych. He had to work a bit hard in the first set with both players not giving up a break of serve and forcing a tiebreak. But Berdych easily staved off Pouille and won the set.
The second set was much better for Berdych as he took control and clinched the set 6-3.
The third set too was cruise control as Berdych  won it 6-2.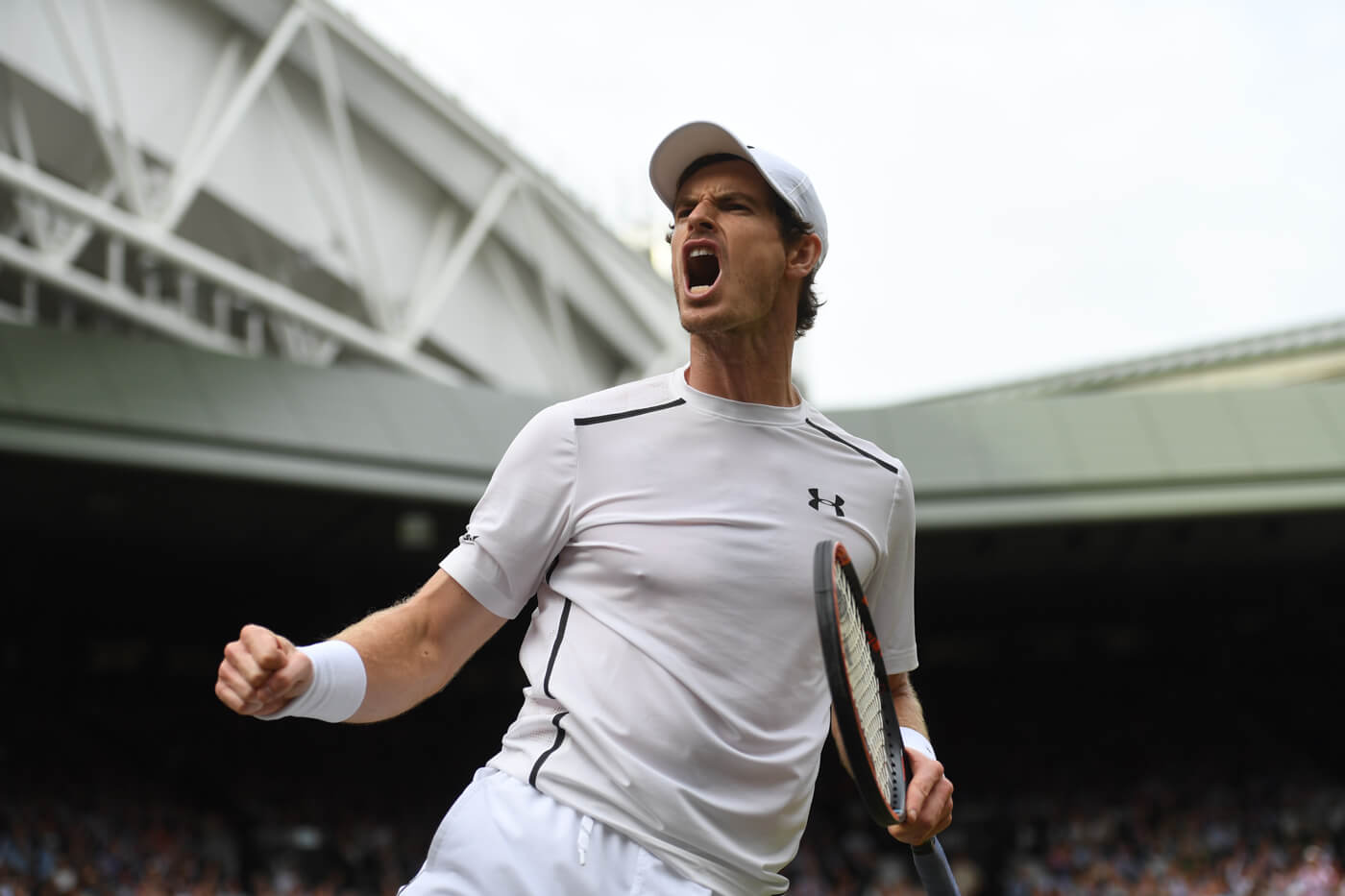 Andy Murray BEAT Jo-Wilfried Tsonga 7-6(12-10) 6-1 3-6 4-6 6-1: Just like Roger Federer, Andy Murray too had to endure a determined Jo-Wilfried Tsonga and a thrilling 5 setter to reach the semi-finals. Murray had won the first 2 sets, but lost the third and the fourth before winning in the fifth.
The First set was a battle if its own, with the tiebreak going the distance. Both players did not give up serve, though finally Murray was able to breakthrough and win the set 7-6 (12-10).
The 2nd set was absolute breeze for Murray when he breadsticked Tsonga to win it.
The third set was complete topsy-turvy, when Tsonga won it fairly easily breaking Murray's serve finally and winning it 3-6.
The fourth set was equally easy for Tsonga as he consolidated his hold with 2 sets and forcing a decider set.
The fifth set though was again topsy-turvy, but in Murray's favour as he again breadsticked Tsonga to clinch the set and the match. He will now face Tomas Berdych in the semifinals.
It's a tough match. The end of that fourth set was really tough. To lose that 6-4 was hard. I just tried to use all of my energy at the beginning of the fifth set to try and get myself up and get the crowd pumped up. Tsonga's a pretty good player. He's not bad. He's one of the best grass court players in the world. He came up with some great shorts. Credit to him for fighting his way back into the match because that first set was a tough one to lose. It was important to break at some stage. There's no tie-break in the fifth so you have to get it at some point if you want to win. [Berdych] has been to the final here, he's beaten Djokovic and Federer, so he's very good. He'll be feeling comfortable on the court."