2 Days to Go for Wimbledon : 2nd Wimbledon title of Roger Federer
2004 Wimbledon
At the 2004 Wimbledon Championships, Roger Federer defeated Andy Roddick 4–6, 7–5, 7–6(7–3), 6–4 in the final to win his second Wimbledon title. This tournament also marked the beginning of Federer's record streak of reaching 23 consecutive Grand Slam semi-finals and 36 consecutive Grand Slam quarter-finals.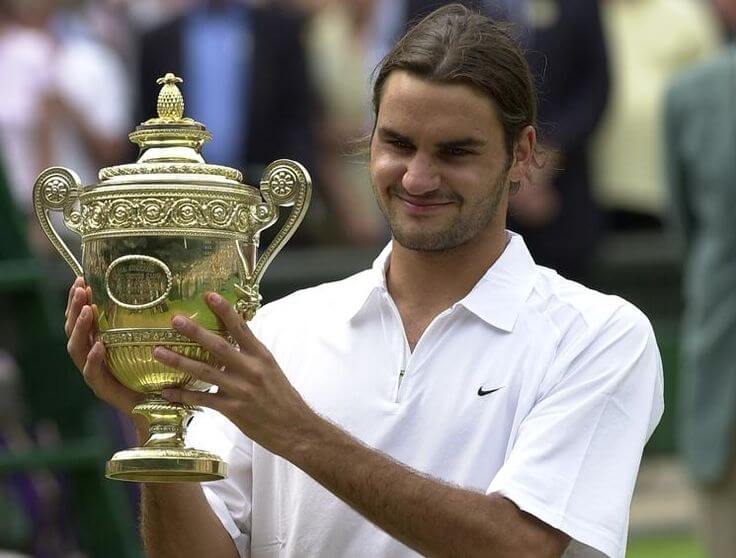 1st Round Federer vs Bogdanovic 6-3, 6-3, 6-0: Federer won the first set in his opening match in just 27 minutes. Bogdanovic then went on to concede the second set with a double fault. The third set was a breeze when Federer bageled Bogdanovic and advanced to the 2nd round to set up a clash with Alejandro Falla.
2nd Round Federer vs Falla 6-1, 6-2, 6-0: Federer bageled for the second time after his first round win over Bogdanovic. He brushed past Falla very quickly; he was on total cruise control. his first serve percentage and first serve points won percentage being 75% and 84% respectively, as compared to Johansson's 60% and 48% respectively to advance to the third round.
3rd Round Federer vs Johansson 6-3, 6-4, 6-3: Federer had an easy outing in his third round match, with his first serve percentage and first serve points won percentage being 65% and 81% respectively, as compared to Johansson's 54% and 76% respectively. He hit 11 aces and finished the match fairly quickly to advance to the fourth round.
4th Round Federer vs Karlovic 6-3, 7-6 (7-3), 7-6 (7-5): Matches with the big serving Karlovic are never easy. Federer won the first set quite easily though. But He had to work hard for the second and third sets, both of which ended up being tiebreakers. Federer kept up his focus and won both of them and the match to advance to the quarterfinals to play against Hewitt.
QF Federer vs Hewitt 6-1, 6-7 (1-7), 6-0, 6-4: Federer made quite a work of Hewitt amidst rain breaks, winning the first set in just 22 minutes. Federer then broke for 3-1 with a stroke so deep Hewitt thought it had passed the baseline. He broke again for 5-1, ending a magnificent baseline rally when he swept up to the net for a deft and winning volley before serving out for the set.
The second set was a complete reversal for Federer. Both players kept level at each game to force a tiebreaker. But Federer lost his focus and timing to lose the tiebreaker and the second set 6-7(1-7)
In the third set, another reversal happened. Hewitt had not dropped his serve in his first three matches. But now he was broken three times as he lost the third set 6-0 in just 25 minutes. Federer, coming to the net less often than when he won the title last year, was dominating from the baseline.
The fourth set was more balanced, though after Hewitt broke Federer, he broke back to level and while Hewitt was serving to force a decider set, he ended up double faulting which gave Federer the win to advance to the semifinals.
Federer said afterwards: "Lleyton made life really tough for me. He played really good tennis and I had to fight hard. But I played some really good tennis in the third set."
SF Federer vs Grosjean 6-2, 6-3, 7-6 (8-6): The rain began to fall when the first set was underway. But even with the rain, Federer managed to play impeccably and kept dictating. When the rain got worse, the match had to be stopped. But Federer kept it up and won the first two sets quickly. In the third set however, Grosjean upped his game and forced a tiebreaker which went the distance, but Federer ultimately won.
On the prospect of entering another Wimbledon final, Federer said: Well, it's very nice. You know, I don't know if everybody realizes actually that this is only my third, you know, Grand Slam final. And I'm very thrilled. You know, I have to say I'm very happy, even though my matches have been rather easy, so I couldn't make summersaults because of, you know, the matches. But, you know, I'm very happy to be again in the finals and to actually do have the chance now, finally, to defend my title. I'm really looking forward to this, this next match.
Final Federer vs Roddick 4-6, 7-5, 7-6 (7-3), 6-4: Roger Federer had to dig deep as he fought back to beat Andy Roddick and claim a second successive Wimbledon title in a rain-hit final. The American was cruising, being a set up, but Roger upped his game and found his rhythm to break back and win the second set. Both players did not break each other and Federer closed it out in a tiebreaker. The fourth set was relatively easy for Federer, who broke Roddick to lead 4-3 and served out for a 4-6 7-5 7-6 6-4 win and his second Wimbledon title.
As soon as he realized he had won, he sunk to his knees and tears rolled down his face. "I cried before so that's enough but it's still an unbelievable feeling," Federer told BBC Sport after claiming his third Grand Slam title.
"I kind of like the 100% record in Grand Slam finals, these are the ones that really count and to have won my favorite tournament twice is incredible."
Though Roger knew he had won by a very narrow margin and he admitted it. "I got lucky today for sure," he said. "I was down a break in the third set and if Andy had served a few better games it would have been two sets.
"He also deserves this title and I hope we're going to play many more times here."
Roddick being his gracious self said, "Roger just played too good today". "I threw the kitchen sink at him but he went to the bathroom and got his tub."
"I left everything out there but Roger is a great champion and hopefully we'll get to do this again sometime."