6 Days to Go : 6th Wimbledon Title of Roger Federer
2009 Wimbledon (22 June – 5 July)
6 Days to go for Wimbledon 2016 and we at federerism brings you the amazing journey of Roger Federer's 6th Wimbledon Title.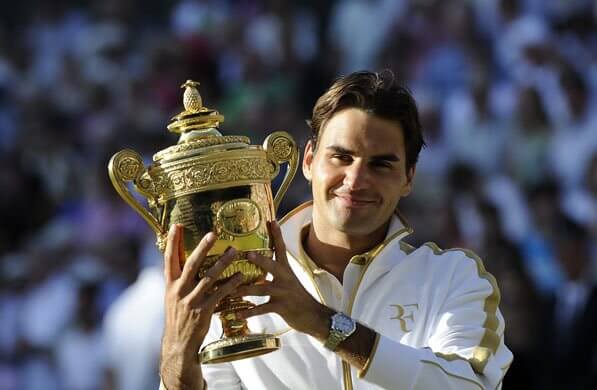 This was the third time that Roddick had lost a Wimbledon final, after defeats to Federer in 2004 and 2005 and the greatest player of all time was attempting to win a record 15th grand slam in his 20th grand-slam final.
The championship set a record for longest match played in Grand Slam final history (in terms of games), due particularly to the unprecedented thirty games contested in the ultimate set back in n 2009 and since 2010 record belongs to John Isner and Nicolas Mahut.
Let's have a look at Roger Federer road to Finals and winning his 6th Wimbledon title:
Round 1 (Yen-Hsun Lu : 7-5 6-3 6-2 ): Federer had created another record by launching the Wimbledon Championships on the Centre Court for a 6th consecutive year. Federer just took a little less than 2 hours to brush past Yen-Hsun Lu to reach the 2nd round.
Round 2 (Guillermo Garcia-Lopez  6-2 6-2 6-4) : Federer again strolled into the next round in just 1 hour and 29 minutes, "The sets were pretty similar. I was able to break him early then serve out. I didn't want to underestimate him. It's a nice feeling playing nice shots. I didn't have to play my very best. I was solid and that is what I needed today," Federer said.
Round 3 (Philipp Kohlschreiber  6-3 6-2 6-7(5) 6-1) : Federer needed more than two and a half hours to beat Germany's Philipp Kohlschreiber to reach the second week. For the first time in the tournament, Federer dropped a set. Federer's 6-3, 6-2, 6-7, 6-1 victory took him to 47 career wins at the All England Club, one more than Andre Agassi
Round 4 (Robin Soderling   6-4 7-6(5) 7-6(5)) : Federer entered the second week of competition in such form that even a player as accomplished as Robin Soderling was brushed aside as the Swiss eased himself into the quarter-finals 6-4, 7-6, 7-6.
Quarter Finals (Ivo Karlovic   6-3 7-5 7-6(3)) : Federer took care of Ivo Karlovic's powerful serves to secure a 6–3, 7–5, 7–6 victory against the 22nd seed from Croatia. The win meant that the Swiss had reached the last 21 semi-finals in the four grand slam tournaments.
SemiFinals (Tommy Haas 7-6(3) 7-5 6-3): Federer sailed past Haas in about 2 hours to win in straight sets. He did have to work up a bit more in patches but mostly it was a sail through. The win took Federer into his seventh Wimbledon final (a record) and his 20th Grand Slam final (a record). Victory in the final would take him back to the top of the global rankings. These are mere numbers, but Federer is well aware of his place in history.
Finals (Andy Roddick 5-7 7-6(6) 7-6(5) 3-6 16-14) :  In the final, Roger Federer defeated Andy Roddick in the longest men's singles final (in terms of games played) in Grand Slam tournament history with 77 games, breaking the record of 71 games set at the 1927 Australian Open. The match also had the longest fifth set (16–14) in a major men's singles final, surpassing the 11–9 fifth set in the 1927 French Open final. The match took 4 hours and 17 minutes to complete, and the fifth set alone lasted 95 minutes.
This match set the record of most games played in a Grand Slam final (77) and most games played in the fifth set of any Grand Slam final (30).
The fifth set was extraordinary. Serving at 8-8, Federer found himself at 15-40, but he produced a couple of big serves to get back to deuce, and he held. When Roddick came out to serve at 14-15, it was the 11th time that he had got up off his chair to serve to stay in the match. Roddick had won his previous 37 service games. A forehand error from Roddick's racket brought up match point for Federer.Another forehand mistake from Roddick, and the match was over. Federer had served 50 aces in the match, just one fewer than Ivo Karlovic's Wimbledon record. He is also third on the career list with 9,592.
By winning his 15th Major, Roger Federer surpassed Pete Sampras's record of 14 major titles. In a rare occurrence, Roddick lost despite only having his serve broken once, in the very last game of the match. As a result, Federer regained the No. 1 ranking for the first time since August 2008.
Federer's wife Mirka was about 8 months pregnant with his twin daughters and she remained there all through this marathon of a match to support him. Everyone feared she would go into labor, but she stood by resolute and strong.
Let's relive the moment here :