Grass is waiting for Roger; Next stop: Mercedes Open, Stuggart
Roger Federer has begun to hit the gym again in hopes of getting ready for his next tournament at the Mercedes Cup in Stuttgart, Germany, which officially launches the beginning of the grass-court season from June 6-12, 2016. After having missed several tournaments since his semifinal loss at the Australian open, including the on-going French Open, he utilized this time off for a renewed focus on training on and getting his back injury healed, he is set to come back on tour at Stuttgart.
"Back is better than expected. I keep progressing," the world No.3 told Swiss television as he presented his football club FC Basel their trophy after winning the Swiss league.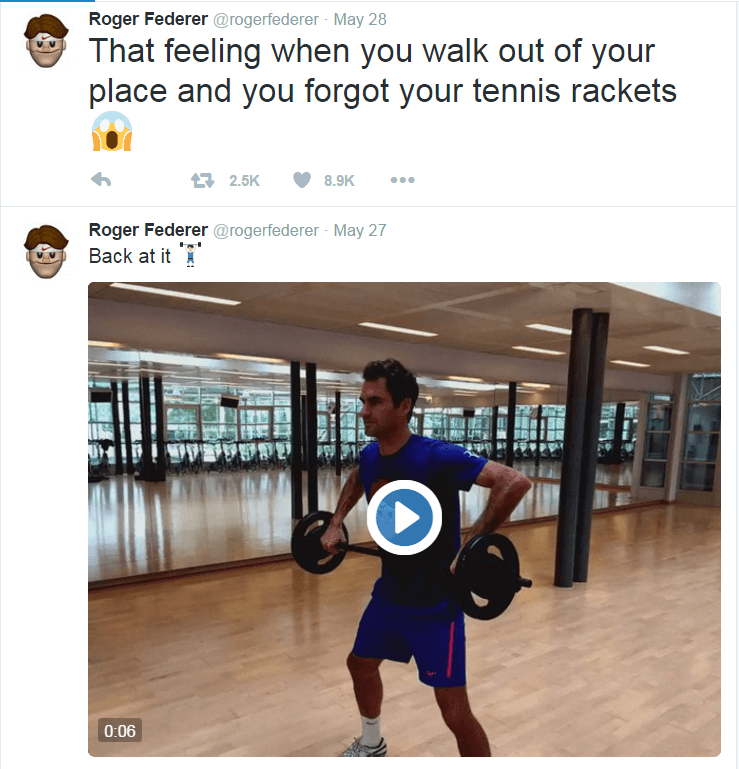 Last November, The Stuttgart Open organizers were able to have the Swiss Maestro to agree to play the next two editions of the tournament and thus prolonging his career into 2017. It will be Federer's first appearance in Stuttgart since the Stuttgart Masters in 2001.
Held since 1916 in Stuttgart, Germany, the Stuttgart Open was played on clay up until 2014. In 2015, the tournament was switched to grass.
"I watched the first (grass court) edition on television, it had a great atmosphere. I've always wanted to play Stuttgart, but it was always the wrong time after Wimbledon – said Federer – Now that they've moved dates, the chance to play the Mercedes Cup is very exciting, I can't wait".
Federer was happy that one additional week has been added between French open and Wimbledon which allows players to get more prepared from Clay to Grass. "It's genius to have an extra week. It doesn't sound like much, but for us players it's a lot – Federer said – I love playing on grass, always have, and always will. To play another tournament on grass is great for me. I can manage my energy and schedule. It's all about winning titles".
And for the Swiss Maestro's appearance Tournament organizers have made a great arrangement by increasing the Center court capacity by 35% allowing more fans to watch Federer after long time in Stuggart.
Rafael Nadal is the defending champion but he wouldn't be playing this year. Other notable players for this year is Thiem, Delpotro, Cilic, Dimitrov, Kohlschreiber, Lopez and simon.

"With the appearance of Roger Federer in the next two years, we will expand into new dimensions with the MercedesCup. He shaped the sport of tennis like no other player on the international circuit. He has the highest approval ratings and is a huge attraction for fans around the world thanks to his superlative tennis. We are pleased that we can mark the 100th anniversary of Weissenhof tournament with tennis and sports idol Roger Federer playing the MercedesCup in Stuttgart 2016," says Edwin Weindorfer tournament director and CEO of e|motion sports.
Federer said that a two-year appearance agreement is exactly what he was looking for. "I like to look ahead and plan in advance. That also gives tournaments something they can look forward to. I know my schedule, this is a week which won't change. I'd like to play more on the grass; I might as well make the most of it. I'm looking forward to it – no doubt about that."
Dr. Jens Thiemer, VP Marketing Mercedes-Benz Cars, said: "The participation of Mercedes-Benz ambassador Roger Federer at the MercedesCup in 2016 is a very big win for the Weissenhof – especially in the 100th anniversary of its existence. This again shows the enormous appeal of the Stuttgart tournament's switch to grass last year. The MercedesCup serves players as a first-class preparation for Wimbledon. "
Tournament will start soon after the French open. Roger Federer might play his 2nd round match on Wednesday. This is a great chance for Roger to clinch his 1st Title of 2016 and also a Mercedes car. 😉