First a postage stamp and now 2 whole streets named after Roger Federer!
It was in 2007, when Roger Federer was presented with a postage stamp issued in his honor in Switzerland; this was the first time ever that a living person had been depicted on a Swiss stamp. The stamp has a face value of one franc.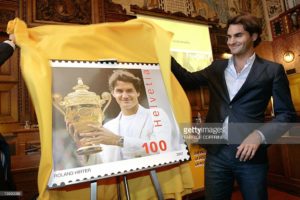 And then it was in 2012, when Federer was honored with a street named after him in Halle, Germany, where he holds the record of winning the grass court title 8 times. In the singles, Roger Federer (2003–06, 2008, 2013–15) holds the record for most overall titles (eight), most consecutive titles (four), as well as most finals (ten, 2003–06, 2008, 2010, 2012–15).
Today, He will be honored again, with a Roger Federer Allee in the city of Biel, at Swiss Tennis headquarters. The Allee will link the Swiss Tennis Academy to Tissot Arena. He will inaugurate it in person.

It is an amazing honor for our Swiss Maestro. He has trained there in his younger days and it was here that he picked up French since he only used to speak Swiss German; he has a special place in his heart as he also met his wife Mirka here for the first time. As it is widely known, they officially became a couple years later at the Sydney Olympics where they even shared a kiss.
Roger Federer will play in Madrid next; his fans will be hoping for him go all the way in Madrid.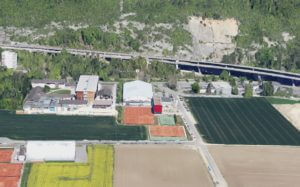 Roger Federer Allee in Biel, Switzerland