Roger Federer Wins Hearts despite loss in the French Riviera
Roger Federer won hearts! He charmed us just like the beautiful Azure Coast. He played absolute sublime and beautiful tennis and reminded us all, that he still has the power to entrance us with his elegant and graceful game.
Roger Federer suffered a shocking 3-6, 6-2, 7-5 defeat by the Frenchman Tsonga at the quarter-finals of Monte Carlo Rolex Masters. After this huge setback loss, the Head2Head between them stands at 11-6 in Roger's favor.
In the first set, it was the Swiss Maestro who made the initial breakthrough, as he broke Tsonga's serve to take a 2-1 lead. Tsonga broke back the very next game to bring it level on serve at 2-2.  At 3-3, Roger broke Tsonga again and held onto his serve to take a lead of 5-3, with Tsonga serving to stay in the first set. On Tsonga serve with score at 5-3, and 30-40 it was Roger Federer who got a break again as Tsonga hit a backhand wide to take the first set. With first set under his belt, Roger Federer was all poised to make his way through to semi-final.
The second set started with an initial break by Tsonga as he took a 2-0 lead. At 1-3, both Roger and Tsonga exchanged breaks as Tsonga held on 4-2 lead in 2nd set. Tsonga broke Roger again to take a 5-2 lead which made him serve for the second set at 5-2. The Frenchman held on to serve comfortably to take 2nd set 6-2 and took the match onto the decider.
Third set saw both players holding on to their serve until 5-5. After holding his serve in a tensed 10th game, it was Tsonga who broke Roger serve and took him to a 6-5 lead in the decider. Tsonga serving for the match at 6-5, gave another opening to Roger when he trailed by 0-30, but the Frenchman held on to his nerves and took the set and the match from the maestro with a score of 3-6,6-2,7-5 to progress to semi-finals.
Roger Federer said, "I thought I was going to win the match maybe after the first set and the beginning of the third. But that doesn't matter really. It was a good intense match. I'm satisfied with how the body reacted. So many good things this week. It's all positive for me."
"Number one, it's good to play a tournament after having had surgery. Number two, it was good to play one match. It was good to have a match with a rest, then to play again. Now it was good to play back-to-back, yesterday and today. Then it was good to play 2 hours 10 minutes today."
"My fitness coach is here. I trained really hard for the pre-tournament stuff. I hope my knee and my body are going to be okay the next couple of days. If I'm good, I might go practise tomorrow as well just to get the body into a rhythm of playing four days straight at a very intense level."
"I'm returning a lot better. It's better than other beginnings of the clay-court season. I'll have to keep that and my serve will come along as I play more matches. It was a good tournament, a good match, exactly what I was hoping for and more, so I'm very happy!"
Watching Roger play this whole tournament after so long was so amazing! Every shot he made, his footwork, his gliding, it was reminiscent of the classic Federer that we have come to love and admire. It was like a sweet reward after being deprived of something that we adore. And the standing ovation from the crowd for him was so touching and heartening; he has well deservedly earned the capacious adulation and adoration that he gets, over the years because of his game as well as his off-court conduct. Whether he wins or loses, he endears his fans to him with his positive attitude. He inspires us all to keep on doing what we love and never to let the failures blow us off our path. He loves tennis, it is his passion and he wants to continue his passion. And he has made us make him our passion, we all always love him and he will always be our no. 1.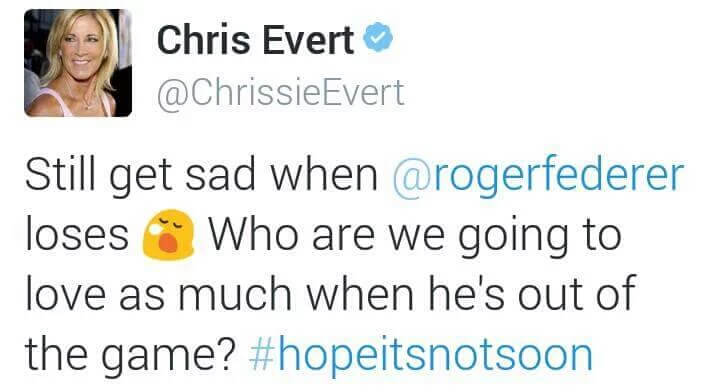 Here's hoping he can continue playing sublime and beautiful tennis and go the distance in the next tournament! We shall be happy and proud fans no matter what.
Please let us know what you feel about him in the comments below.