Wimbledon Day 3 Highlights
Dominic Thiem beats Florian Mayer 7-5 6-4 6-4: Dominic Thiem only needed an hour and 37 minutes to dispatch Florian Mayer in straight sets, to advance to the next round where he will play Jiri Vesely. Eighth-seeded Thiem recorded an ATP World Tour-best 48th match win in his 60th match this year.
"I'm really happy with my performance," said Thiem. "I was feeling not comfortable all the past two years on grass. I think the biggest difference this year is I got a lot of self‑confidence, but the biggest difference I think is my movement. I am much more down [on the ball] and much more stable. [The courts are] soft. You have to stay low. The balls stay low."
The last match that Thiem had played against Mayer was in Halle where Thiem lost. He broke Mayer for a 6-5 lead in the first set, then once in the second set to win it comfortably. He then converted his third break point opportunity in a 12-point game for a 4-3 lead in the third set and won the match.
Petra Kvitova advances with 6-0 6-4 win over Sorana Cirstea: Petra Kvitova took less than an hour to plough through the first round against Sorana Cirstea, bageling her in the first set and clinching the second set and the match with an easy 6-4 score. The Czech, winner in 2011 and 2014, broke Cirstea four times.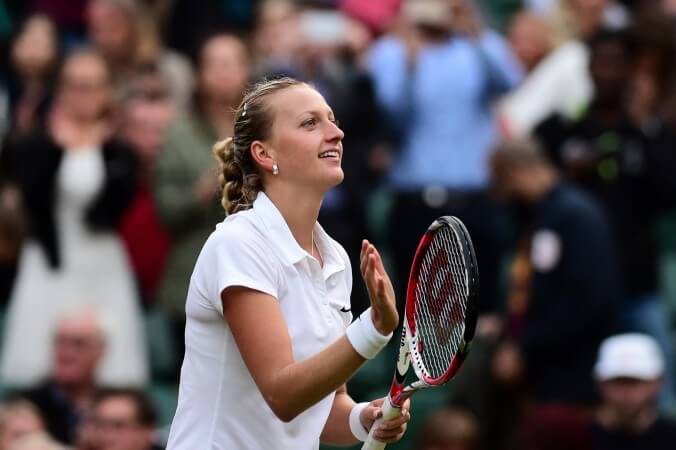 World number 10 Kvitova, 26, will face the winner of the match between Ekaterina Makarova and Johanna Larsson.
Roger Federer enters Rd 3 with win over Willis by 6-0 6-3 6-4: The Fairy tale match gave Marcus Willis the opportunity to play against Roger Federer. While Federer beat Willis in straight sets, he was still the hero. Federer bageled Willis in the first set, but Willis raised his game a little in the second set and managed to win a few games before Federer clinched it. The third set saw Willis a bit more confident, going neck-to-neck up until the mid-third set, but Federer broke him and won the set and the match.
Marcus Willis: "It is daunting. It is tough. I was playing alright at first, I settled into the match. I was enjoying it out there. If I was playing well and competing with Roger for a couple of sets I was doing well.
Roger Federer: "It was very different. Marcus brought some unbelievable energy to the court with his play, the fans and his enthusiasm as well."
Bernard Tomic beats Fernando Verdasco 4-6 6-3 6-3 3-6 6-4: Bernard Tomic battled through multiple rain delays and a tough Verdasco to win the match in a tough 5 setter. They had 2 sets apiece when they had to stop playing because of the rains. Next day Tomic closed out the match in the decider set. It is the fifth time that Tomic has beat Verdasco, despite the latter being a tricky left-hander. Tomic broke Verdaso in the fifth game of the final set amidst a light spell of rains. But he had to save 5 breakpoints to win.
"That big game at 4-3 it was very, very emotional because I should have lost that game," he said. "Then to win that gave me a big breathing space, and then obviously the officials said to come off the court. "But for me I was happy. For me this game was the key game at 4-3. I knew after I just needed to serve it out. I did that. "I said before, probably with my results, some of the best grass court results prior to Wimbledon. I think it's pretty solid."
Djokovic beats Mannarino with a 6-4 6-3 7-6(5) win:  Djokovic had an easier time, beating Mannarino in straight sets in 2 hours and 4 minutes to win his 30th successive Grand Slam match. He will next face the winner of the Sam Querrey and Thomaz Bellucci in the 3rd
"I do have a lot of expectation of myself, but I'm very grateful that I can play at such a high level consistently," Djokovic told BBC Sport. "Grand Slams are what matter the most in our sport. The future is something we can't predict, but certainly I will continue playing with lots of passion and see how it goes."
Mannarino, 28, was broken just once in the first set. Djokovic then won five games in a row to take the first set and establish a three-game advantage in the second. World number 77 Mannarino had five break points at 1-1 in the third, only for Djokovic to recover on each occasion and take the set on a tie-break.
And Radwanska is through!Radwanska just took over an hour to beat world number 97 Kozlova 6-2 6-1 to advance through to the next round to play against Croatia's Ana Konjuh.
"Of course, a one-hour match is always good. I'm very happy with that win," world number three Radwanska told BBC Sport. It was the first meeting between Radwanska and 22-year-old Kozlova, who was making her main-draw debut at SW19. "It's just like an indoor tournament," Radwanska said. "We have to get used to it. It's good we could play today."
Tomas Berdych has done it: He beat Ivan Dodig 7-6(5) 5-7 6-1 7-6(2) in four sets to advance to the next round. He had to battle rain as well, but he managed to close out the match before the rains forced the outer courts to be closed. He had already faced a delay by a day because of the rains.
"It was really an up-and-down match. It should have been done yesterday. But it's good to finish now since my opponents already finished [their first-round matches] yesterday," Berdych said. "Now let's wait and see what's going to happen in the upcoming days. You just have to keep your focus and be ready for the next match."
Berdych took 3 hours and 23 minutes; lost only 11 points on serve, hit 54 winners to Dodig's 51, to win this match in 4 sets. He will now face Benjamin Becker in the second round.
British No 1 Johanna Konta won her first Wimbledon match at the fifth attempt on Wednesday, seeing off Puerto Rico's Monica Puig 6-1 7-5 after a rain delay. The 25-year-old told BBC Sport: "It was definitely a tricky first match. The conditions didn't make it easy for us." Konta, the world number 19, will play Canadian Eugenie Bouchard after the former finalist beat Slovakia's Magdalena Rybarikova 6-3 6-4.
Belinda Bencic beat Tsvetana Pironkova 6-2, 6-3: Belinda Bencic made her debut on the Centre Court, a dream come true for her. While being ecstatic about it, she crushed Pironkova in straight sets to advance to the next round. Last year at the Wimbledon, she had beaten Pironkova in three sets, this time she achieved the win in 2. Because of the rains, she was moved to the Centre court after the Federer-Willis match, where she took the opportunity to fully revel in the atmosphere.
"When I was told I had goose bumps all over my body," she smiled afterwards. "The supervisor came to me and told me I was going to play Centre Court. Sorry for my opponent, but I was really happy. "I feel this is going to be my court hopefully soon."
You would expect her nerves to show up, but nothing if the sort happened. She played perfectly and confidently. "I was totally focused. I can't explain why, I just felt so comfortable".
Having grown up watching both Hingis and Federer forge their paths as Wimbledon champions on this very court, Bencic has similar aspirations.
"Of course. I mean, it's basically Roger's court," she beamed. "I played so well on it. It didn't surprise me. I expected it with the roof, especially. It suits my game perfectly so theoretically I should play great [on Centre]."
The opening set took 35 minutes, where Bencic broke Pironkova twice to clinch the set. The second set was a little more work for Bencic where she got broken and ended up missing 3 match points. But she later broke back and won the set and the match on pironkova's serve.
Andrea Petkovic wins against Nao Hibino 3-6 7-5 6-2: Andrea had to work hard a little to win her match against Hibino in the three sets. She lost the first set, but fought back hard to win the second set. The third set was relatively easy win for her to advance to the next round.
"I've had a strange love affair with grass because it wasn't love at first sight," she said. "It's been a growing love, maybe like when you have an old school friend that you meet again after 10 years and suddenly you realise – 'Ah that's the one, I actually kind of like him'. "I really want to do well here and I'm trying my all."
Anastasia Pavlyuchenkova, ranked 23 in the world, beat Taiwanese Su-Wei Hsieh 7-5 1-6 6-1 for a second-round meeting with Kazakh Yulia Putintseva.