1 day to go for Wimbledon : First Wimbledon Title of Roger Federer
Wimbledon 2003 (First Wimbledon Title of Roger Federer )
Roger Federer created history in 2003 by winning his very first Wimbledon and his maiden slam. It was the beginning of a new era, the Federer Era. He went on to amass 16 more Grand Slams, including 6 more Wimbledon crowns, and countless other titles and records. He is undoubtedly one of the Greatest Of All Times. Here is a look at his path to his very first Wimbledon: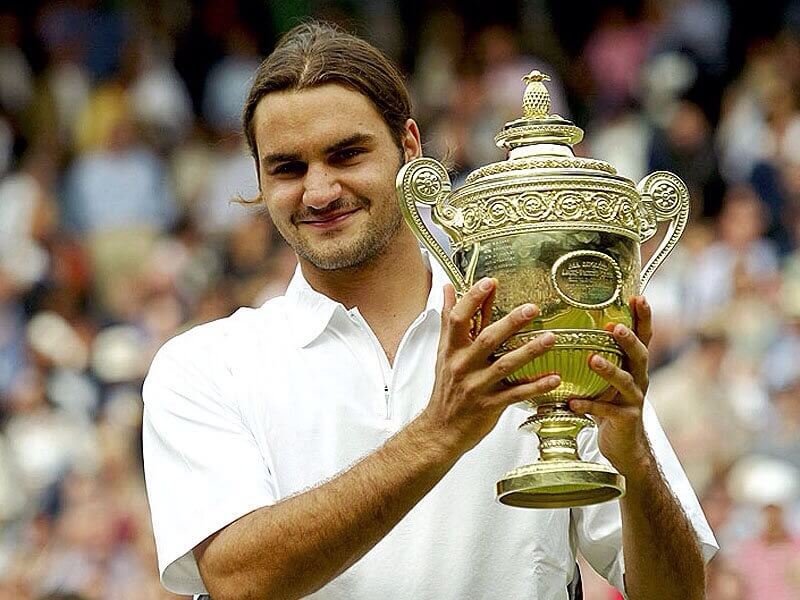 Roger Federer defeated Mark Philippoussis 7–6(7–5), 6–2, 7–6(7–3) in the final to win the Gentlemen's Singles title at the 2003 Wimbledon Championships
1R Federer vs H-T Lee 6-3, 6-3, 7-6: Federer began his quest for his first Wimbledon title by beating Hyung-Taik Lee in straight sets. Federer won the first two sets easily and very quickly. Lee raised his game a little in the third set to force a tiebreak, where Federer served impeccably well to close out and win the set and the match.
2R Federer vs Koubek 7-5, 6-1, 6-1: The first set was a bit of a work out for Federer as Koubek refused to be broken. But in the end of the first set, Federer finally broke him and won the set. The next two sets were cruise control for Federer as he bread-sticked both the sets and won the match to advance to the 3rd round.
3R Federer vs. Fish 6-3, 6-1, 4-6, 6-1: Federer was mostly on cruise control in this match, with a minor blot in the third set to win the match in 4 sets. Federer played perfectly early on to take a two-sets-to-love lead. But the third set went topsy-turvy for him and he lost the set easily.. But he got back in the game in the beginning of the fourth set and bread-sticked Mardy Fish to win the match and advance ot the fourth round.
4F Federer vs F Lopez 7-6, 6-4, 6-4: Federer injured his back while the warm-up of the match was on. He had to call a physio to get it better. But in spite of the back injury, he did not give up and kept on playing. He won the first set in tiebreak and cruised in the next two sets to win the match and set up his quarterfinal clash with Schalken.
"I don't know how I won today," said a relieved Federer, after receiving intensive treatment on the injury which puts his participation in tomorrow's quarter-final, against the eighth-seeded Dutchman, Sjeng Schalken, in jeopardy. "I'm very lucky to be still in the tournament."
"At the time I just couldn't move, so I had to call the trainer," he said. "I was in such a lot of pain. As the match went on it got a little better because your body gets warm. You try to forget that your suffering as you get into the match."
QF Federer vs Schalken 6-3, 6-4, 6-4: The quarterfinal was a breeze for Federer as he cruised past Schalken in straight sets. Bidding for his maiden grand slam, Federer kept up pressure on Schalken and broke him at crucial points to win the match. Federer served his 13th ace to give him a match point – which he converted to wrap up an impressive victory in one hour and 38 minutes.
SF Federer vs Roddick 7-6, 6-3, 6-3: Federer completely dominated Roddick after winning the first set in a tiebreak. Roddick, who had dropped just one set in an impressive journey to the semi-finals, had no answer to Federer's exquisite and unrelenting play.
Federer hit 17 aces and fired his way out of trouble on the only two break points he faced in a totally dominant performance. The match lasted just one hour and 43 minutes – even quicker than Mark Philippoussis' defeat of Sebastien Grosjean in the other semi. Roddick's one real chance at getting back in the match was wasted when he hit a weak forehand volley into the net on set point in the first set tie-break. Federer took advantage of this and won the tie-break 8-6.
Saving two break points in the opening game of the second set, Federer produced a majestic cross-court forehand to break Roddick for 2-0 lead and continued to hold serve to take the set.
A poor Roddick backhand into the net presented Federer with the break he needed in the fifth game of the third set. And a succession of superb passing shots brought up his first match points on Roddick's serve at 5-3. Roddick saved the first two but a wide forehand sealed Federer's well-deserved victory.
"It's incredible right now," Federer told BBC Sport.
"It is my favourite tournament so it is a dream."This was just outstanding – I hope I can keep this up for the final. "I'm not thinking about the final at the moment – I'm just celebrating this victory."I'm very happy to have the opportunity to win a Grand Slam."
The 21-year-old went on to become the first Swiss player to play in the Wimbledon final.
Final Federer vs Philipoussis 7-6 (7/5), 6-2, 7-6 (7/3): Federer played perfectly. He had a tough fight on his hands. He had never won a grand slam before. He dreamt of winning the Wimbledon, and this was his chance. He had crossed all the hurdles and the last one was waiting for him.
Federer dealt with the Australian's massive serve with brilliant returning, and was completely dominant on his own serve. Federer took the first set on a tie-break as both players did not give up on their serve.
Two glorious forehand cross-court winners gave the Swiss the first break-points of the match in the opening game of the second set, and when Philippoussis dumped a volley in the net Federer had the breakthrough. The second was an easy win for Federer.
Philipoussis again upped his game to match Federer's brilliance, but Federer again forced a tiebreaker and won the set and the match, marking a historic rise of the Federer era which still continues to this day. From a boy who dreamt of winning a Wimbledon one day, he came a long way to prove himself and made his dream come true.
"I proved it to everybody and it was a big relief because there was pressure from all sides, especially from myself, to do better in Slams," he said. "There is no guarantee of anything, but I knew I had the game and I have always believed in myself.
"I kept my level up here in the semi-finals and the final and to lift the trophy is an absolute dream."
The 21-year-old added that the back injury he sustained in the fourth round against Feliciano Lopez had left him doubtful that he would make it through the tournament. "You need a little luck like I had with my back when I struggled through that match," he said.
"I was in big pain – I was struggling to serve, to return, and even to sit down. I called the trainer and he gave me some painkillers but I thought if this continues, it's not worth playing. "Somehow I stayed in but at that point I didn't think I would ever hold the trophy."
Federer dedicated his win to his circle of friends and family, including former coach Peter Carter, who was killed in a car accident last year. "Peter was one of the most important people in my career," he said. "I guess we would have had a big party if he had been here. I hope he saw it from somewhere." Federer added that he was looking forward to going to Wimbledon's official dinner, after missing out in 1998 when he won the junior title.
"I had my first wild card in an ATP tournament in Gstaad," he explained. "So Peter (Carter) and I decided that I had to return to Switzerland to prepare well. So I'm excited about going this year."