Madrid, Here comes the Fedex! Roger Federer has confirmed his participation at the Mutua Madrilena Madrid Masters. "The Madrid Open can count upon the presence of Roger Federer," said a statement on the tournament's website."Federer is one of the best tennis players in history and Madrid is a special place for him," said tournament director Manolo Santana.
"We are delighted to be able to once again count on his presence at the Caja Magica".
He previously played in Monte Carlo, having lost to Tsonga in the Quarterfinals. He was out of action for two months after the Australian Open because of a knee injury and he had to get a surgery done to repair the torn meniscus. But he showed no signs of rust or injury when he played in Monte Carlo. On the contrary, he played some beautiful tennis; and more importantly, got a lot of practice playing competitive tennis for a longer amount of time. Previously Roger has won Madrid Masters three times, 2006, 2009 and 2012.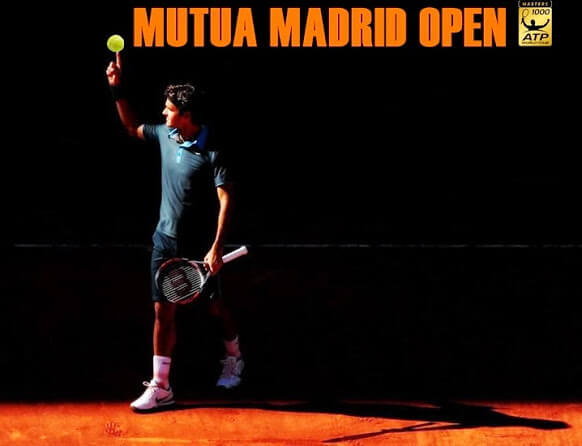 This year, Roger has yet to win a title; he has had to miss out on some major tournaments of the season because of his injury and stomach flu in Miami. So the fans are eagerly waiting for his first title of the season. Madrid will be a great chance for him. Playing Madrid will be a good idea before the French open as it will help him in warming up before the grand slam. The more the match practice, the better it will be for his preparation.
Federer, who didn't have any pre-French clay events on his original schedule, had told the press after losing in Monte Carlo that he didn't have a set schedule before Paris. "I definitely won't play the next couple of weeks," Federer had said. "And Madrid I'll decide probably like 10 days from now. Rome I'll decide probably in 15 days from now.
"I have a few things to do in the beginning of next week. All the practices are already planned with Pierre for the fitness. It will be half fitness, half tennis, I believe."
Despite the loss to Tsonga in the quarterfinals, Federer added again that it was a good first week back from left knee surgery.
Federer fans will be delighted to see him play again after a gap of a few weeks; it will be a real treat for them. Here's hoping the Maestro can get some great matches under his belt and win Madrid for the 4th time. Allez Roger!
Roger Federer's Potential Path:
1R – BYE
2R – Nicolas Mahut/Joao Sousa
3R – Dominic Thiem/Juan Martin del Potro
QF – Rafael Nadal
SF – Andy Murray/David Ferrer
F – Novak Djokovic/Stan Wawrinka
Good Luck Roger!
Vote for Roger Federer: Madrid Moments Video.