When Dreams Come True – The day I Met Roger Federer (Sampada Moghe)
Somehow I had never believed that my dream of meeting Roger Federer could turn into a reality. He was on my Bucket List. My dreams so often took me to the Wimbledon Centre Court, watching The Maestro play live, and Him holding the golden trophy aloft. Having been a fan of His since 2003, my admiration and love for him have kept growing day by day.
So naturally I was over the moon when I heard that Roger would be visiting India for the first time to play at the inaugural IPTL in 2014. I went all the way to Delhi from Bangalore to watch him play live for one match!
And I was so mesmerized by Him that I decided to go watch Him play at the 2nd Edition of IPTL exactly a year later. I made plans with all my other fellow FedFans, and we decided to meet up and have fun together. The more the merrier I say! I had met a few of my FedBuddies in 2014, which had been an amazing experience. But this time more of us were able to make it. As soon as I boarded my early morning flight to Delhi, I was feeling happy that I would get to see him play live again, meet my friends, and have a blast for 3 days. I was so excited that I had butterflies in my stomach. Little did I know that so much more was in store for me!
I landed in Delhi on 10th December morning, and waited at the airport for my friend to arrive from Hyderabad. It was so cold that I was shivering! After 90 minutes of waiting, she finally arrived and we headed off to our hotel. The plan was to freshen up and meet our other buddies at Connaught Place for lunch, and then to head off to Indira Gandhi Indoor stadium together. On the first two days, we followed the same plan. On the second day, we even bought some Roger posters for ourselves at CP. We playfully fought with each other to take the WTF red T-shirt poster, but it was all fun.
Once inside IGIS, at first the familiar IPTL theme music began playing, all the players were introduced, and they came out running to greet the crowd. The atmosphere was electrifying and the crowd was amazing, screaming and cheering for their favorite players. We cheered on for some of our other favorite players. It was amazing to see them play live. From the legends Ivanisevic, Enqvist, Moya, Santoro, and Philippoussis to the amazing currently active players like Ivanovic, Mladenovic, Nestor, Kohlschreiber, Paes, Berdych, Mirza, Bopanna, Nadal, Radwanska, Bencic, Kyrgios, Brown, etc., we got to see them live. We all took a lot of pictures and a lot of videos on our phones.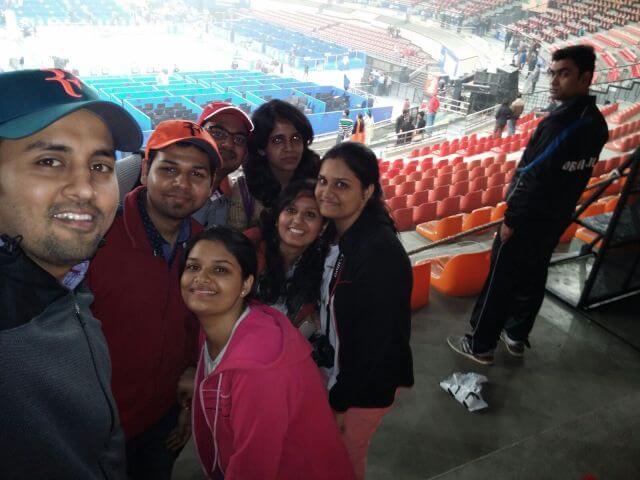 After the end of the first session on each day, we moved in a little bit forward and saw the second session from a lot closer to the court, and loved every bit of it.
Roger was scheduled to play on the third and final day of the Delhi leg of IPTL. We had gotten information on Roger's flight details, his arrival as well as departure. But we missed seeing him during the arrival. Some of my friends got a glimpse of him getting in his car and waved at him. After lunch, I got ready in all my RF gear, Red RF Tee, Blue RF cap, and a red jacket with a RF patch sewn on it, and ran along to watch Roger play live.
The third day, we all were as excited as giddy teenagers going to their first rock concert. We were having photo sessions everywhere and taking many group selfies.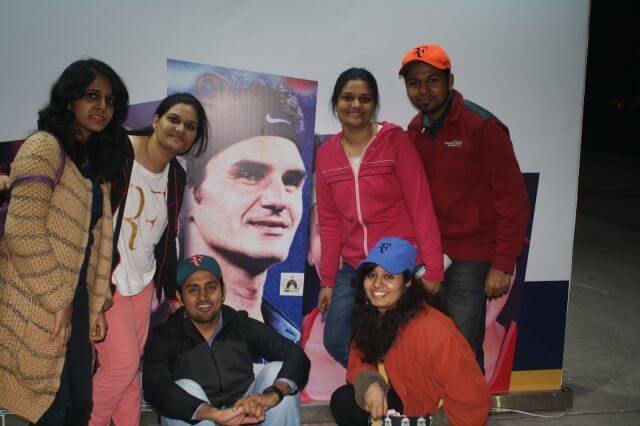 The first session of matches were fun, though we were actually waiting for the second session as that was when Roger was scheduled to play. At 7 PM, Roger showed up to practice with Nadal. Everyone went crazy just as soon as he entered; we were all screaming and cheering for him, all our banners were up. There was a very healthy rivalry going on between Federer and Nadal fans, each group screaming and cheering louder and louder. It was fun. I had kept a few strepsils with me, every time I felt my throat giving out, I would pop in a strepsil and scream even louder. He partnered with Marin Cilic in the doubles match. After the doubles match he played the singles match against Rafael Nadal. Even though he lost both these matches, I was entranced watching him play his signature shots. His grace, his footwork, his shot making, his biting the lip while serving, everything was simply sublime. The match against Nadal was so thrilling  we stood up and screamed at every shot, it was a neck-to-neck thrilling match. We screamed our hearts out to cheer for him. We waved our banners and soaked in the rousing atmosphere to the fullest.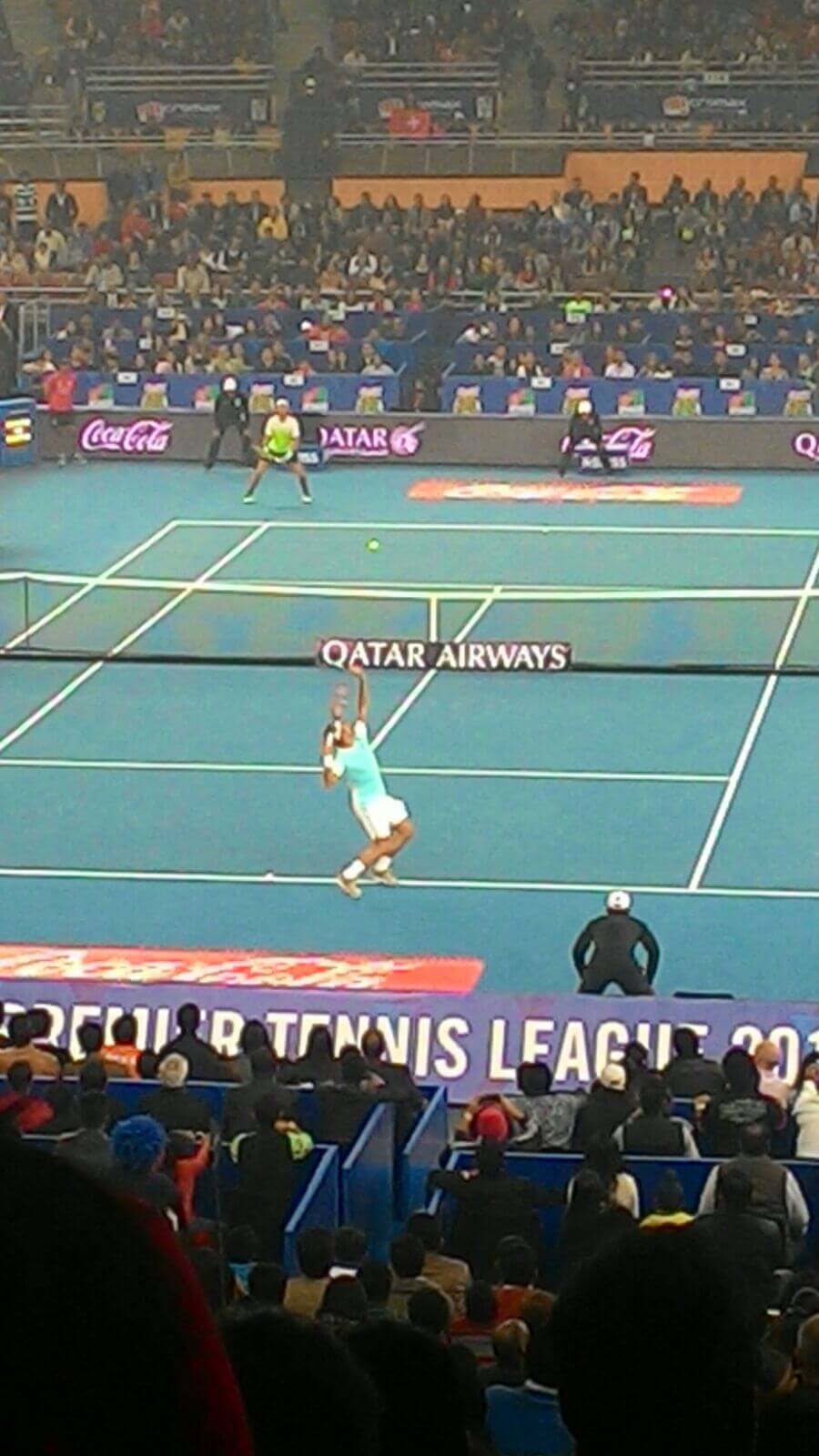 After the match, we reached the airport around 12:30 AM, then we went and waited at the departure area outside. It was extremely cold and we felt like we would freeze. Thankfully, we all had jackets to keep us warm. There were a few people from the other group who we had met the day before. We knew Roger would be travelling in a black Mercedes, so we decided to keep a look out for it. And sure enough a while later He arrived in a black Merc. He got down at the opposite end of where we were waiting. We ran towards him, literally sprinting, and reached up to Him. The first thing that you notice about him is that he is incredibly tall! And I, being just 5 feet tall, felt like He was towering over me. He was surrounded by his equally tall bodyguards, very alert at our presence. But Roger was incredibly sweet to all of us despite being tired. He met us all. People kept getting their stuff signed and in that chaos, I slid in my blue cap to him and He signed it. I was star-struck, I kept muttering how awesome he was. And the others said something similar and he kept thanking us. Two of my friends got selfies with him and He told them it was His pleasure. I was very numb for a few minutes, had it really happened? And then when it hit me, I went and hugged a friend and kept jumping up and down, screaming and pinching myself. Immediately I texted my best friend of all that just happened and sent him a picture of the autographed cap.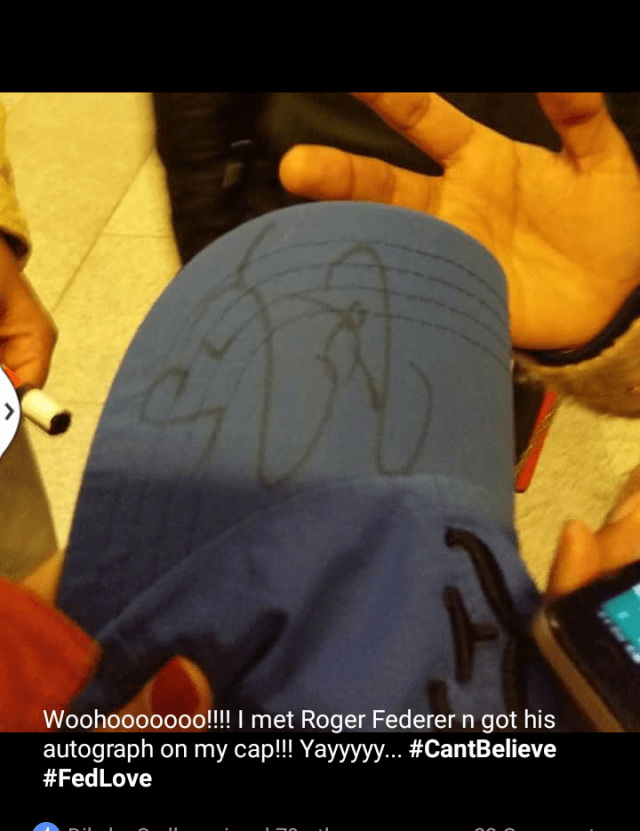 All of us couldn't believe our luck! The disappointment of last night completely evaporated and turned into intense elation, this was way better than any of us had imagined. Although I did not get a selfie with Him, I was not at all disappointed. I have the moment etched forever in my memory, seeing Him so close, talking to Him, getting my cap signed, it was so surreal!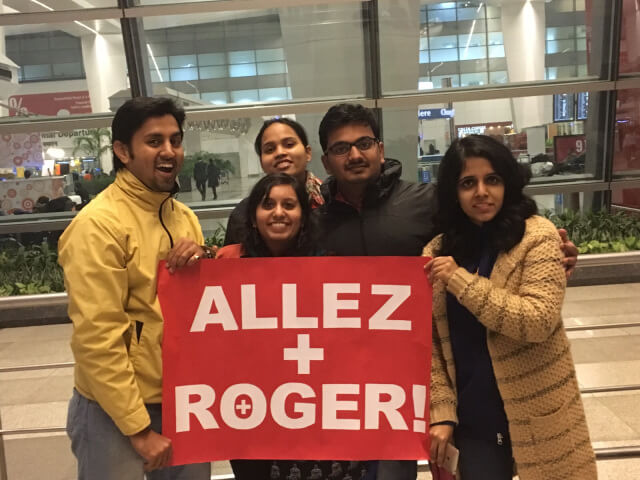 After the group dispersed, two of my friends and I stayed on at the café at the airport. My flight back was at 11 AM, I had to stay there till then anyway. My friend decided to take the 6:30 AM metro back home and another friend decided to give us company till then. We sat and chatted about Roger and so many other random things, it was a lot of fun. They ended up sitting with me till 8:30 AM. We were tired and sleep deprived and yet I was so grateful to them for staying with me till that time. I love my FedBuddies so much! After that I called my mom up and told her the news feeling excited, and she reciprocated my excitement. Once I sat down at my gate waiting lounge inside T3, waiting to board my flight, I posted about meeting Roger and getting his autograph on social media and felt so happy replying to all the congratulatory messages coming my way.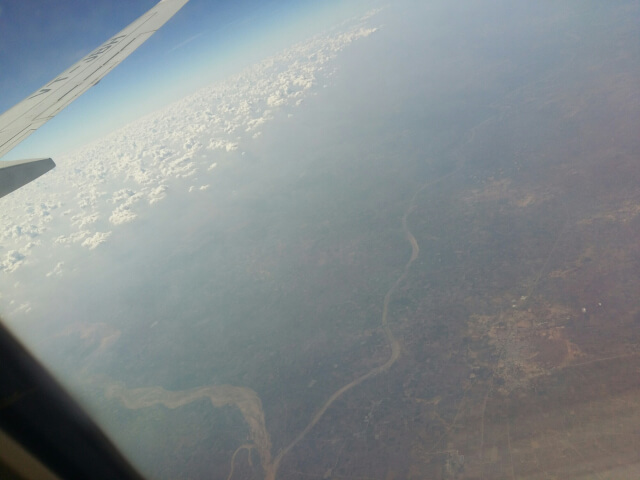 After the plane took off, I was simply captivated by the views outside. My seat was right behind the wing, so I could see the wing tip gliding in the air while below it I could see clouds floating by. I could see the curvature of the Earth and the horizon looked like a curved blue aura. And it hit me again that I had met Roger, been so close to him and I had spoken to him. I felt so happy at that moment; I was completely sleep deprived, but I just could not close my eyes. I felt like I was flying and soaring sky high, as if I had wings and I was gliding like a beautiful bird. I kept staring out the window and kept smiling. I had a really wide grin on my face; I thought maybe people who might have glanced at me might be thinking what an idiot I am to be smiling away like a teenager. But who cares? I met Roger Federer! I knew I was happy and my dream had actually come true.
This experience made me realise that our dreams do come true at some point. I would never ever forget these amazing three days, the memories, and the feelings forever etched in my mind and my heart. Oh and I have wrapped the precious Roger Federer autographed cap in a transparent gelatine sheet, put it in a transparent bag, and have stored it safely. Whenever I want to look at it, I just take a peek and keep it back.